Residents north and south of the river calling for urgent action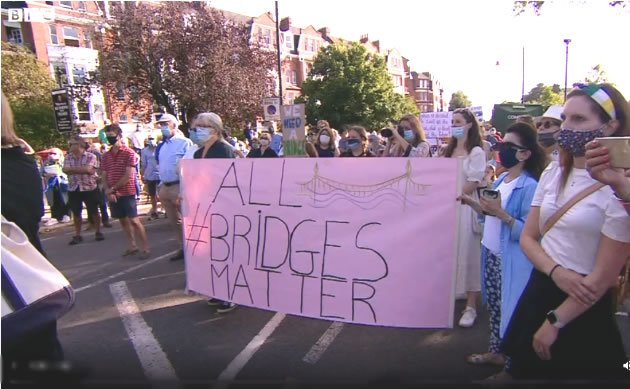 Earlier protest over Hammersmith Bridge closure
A large scale protest took place this week to call for immediate action to be taken to reopen Hammersmith Bridge.
On Thursday 3 September residents from both north and south of the river assembled at 5pm to hold a socially distanced demonstration.
This is the first in a series of events which local residents say they will be organising ahead of the reopening of schools to increase the pressure on politicians of all parties to set out their plans for a resolution. They claim that many residents are set to face up to 2 hours extra travelling time each day as a result of the disruption.
More than 16,000 people crossed the river by foot or by bike every day before the bridge was completely closed on 13 August. More than 22,000 vehicles used to cross the Thames between Hammersmith and Barnes before the closure to traffic in April 2019. Campaigners say that these cars, vans and buses are now adding to congestion across London with both Chiswick and Putney Bridges seeing a significant increase in pollution and congestion.
It is being claimed that the cycle route many are now required to take involves: several busy and dangerous roads; a park that has become a hotspot for muggings; and a steep bike ramp over two flights of stairs onto Barnes Railway Bridge.
Residents have also spoken of concerns over medical care – with Hammersmith Bridge GP Surgery cut off from those south of the river, and nearly an extra 30 minutes added to the time to the nearest accident and emergency. Older residents have also spoken of the isolation with it now impossible to walk to see friends and family who were previously just a short distance across the bridge.
On Thursday 20 August, hundreds of protesters gathered on both sides of the bridge to demand that local councils, Transport for London and the Department for Transport, set out a clear timetable of action to bring this ongoing problem to a resolution.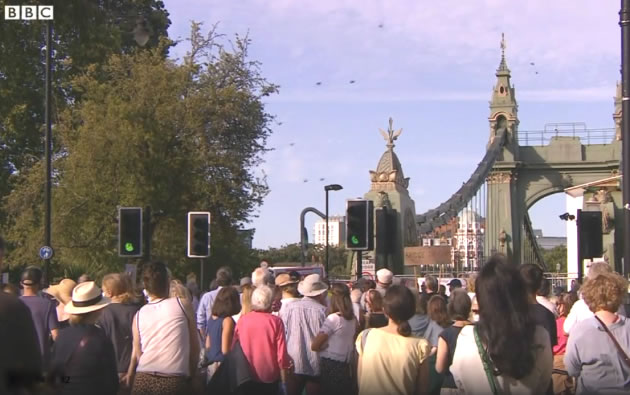 Protestors gather near Hammersmith Bridge

Laura Martin an NHS consultant from Imperial College who lives in Hammersmith can't see how she and her husband, also a consultant, will manage to get their daughter to school when term begins, She says, ""I'm a Respiratory Consultant at Imperial College Healthcare NHS Trust, my husband is an Infectious Disease Consultant at Great Ormond Street Hospital. As you can imagine this year has been overwhelmingly difficult for us, with significantly increased work commitments at the hospital due to COVID.

"Our daughter attends Lowther primary school just south of the bridge and as a keyworker child attended school every day during lockdown. Lowther have been absolutely amazing at supporting her and us, so we're doing everything we can to keep this support network stable. Changing schools would really jeopardise this. When winter comes I have genuinely no idea how we will manage a 1 hour school run each way without the bridge."

Justine cares for her mother who lives in Barnes. She said, "My Dad recently passed away leaving my Mum who suffers with Parkinson's. The bridge closure has resulted in numerous incidents which have created havoc both for medical services and severely inhibits normal life.

"For hospital appointments, this means travelling the long way round' to Charing Cross hospital both via ambulance and with public transport.

"My Mum has four around the clock carers. Some have been severely 'disabled' by the closure, especially since pedestrians can no longer use the bridge as they travel by public transport. This has resulted in a smaller cohort of carers for my family. One time, a physiotherapist had to walk from Charing Cross to get to see my Mum, what a waste of time for much needed medical teams in the community.

"So many of their last remaining friends live just over the bridge in Hammersmith. Elderly residents are not adept at using buses and their social life has been severed."
Key worker and local resident Jess, who lives south of Hammersmith Bridge says, "Both my husband and I rely heavily on the Hammersmith tube link for work. As key workers we need to be able to commute into central London on a daily basis and this disruption has added nearly two hours extra on our daily journey time.

"I am pregnant (and still working) and will now have real difficulty being able to get to my hospital appointments. Due to a health condition I am being closely monitored and must attend twice a week. Stress is not recommended. I dread to think how I would be able to get to the hospital in the case of an emergency.

Business woman, mum and local resident in Barnes, Kate Lowe describes the impact on family life, "For the past year since the bridge closed our daily commute in to work has had to be planned with military precision according to who has an early meeting they need to attend. Childcare, playdates, at-home music lessons and more have all been compromised as few people wanted the extra walk to our house from Hammersmith.
"Now we are faced with our only artery into Hammersmith being cut off completely and the nightmare escalates precisely at the time when life is expected to be resuming some form of routine after lockdown. Our eldest daughter at senior school in Hammersmith is faced with a 45-minute cycle ride and having to lug her bike across Barnes bridge. I am not given much sympathy from my employers - who are asking staff to return to our central London offices next month - when I tell them my commute (previously on the tube from Hammersmith) is now unworkable. With the bridge now completely closed the logistics of school collection at the other end of the day require a car the other side of the River which at some point means sitting in a traffic jam to get it there.
"The life is being squeezed out of North Barnes in particular: the small businesses, the pubs, the families like ours who, with Hammersmith a stone's throw away, had a foot either side of the River. Feeling is running high and - in this most challenging of years - no one needs the additional stress of Hammersmith Bridge's sudden and ill-timed closure."
Brigid is in her sixties and doesn't drive. She explains how the closure has affected her by saying, "It is very isolating and worrying if I can't get to west London to see my family and friends. Although there is a bus that goes from Barnes to Hammersmith it takes 35 min and because of COVID and social distancing you are lucky to get on it. They are not frequent.
"Because of my age and the risk of catching COVID I walk everywhere. Last week I was able to walk over the Bridge to Hammersmith and shop but now the nearest shops are a two hour round trip. I am worried about the winter. I am worried I can't get to Hammersmith Broadway station if I need to get to my family in an emergency. I am feeling very cut of and a little isolated."
Pensioner Marie-Jose is concerned about the impact on her life. She comments, "I have been living in North Barnes for more than 25 years and am now retired. I travel to Hammersmith for shopping, going to the bank, the gym with its swimming pool, and Charing Cross Hospital. Once the bridge closed to pedestrians all these things become very difficult or indeed impossible to do. My grandson will probably stop popping in after school (the school is in Hammersmith) . When the buses stopped crossing the bridge I stopped going out to town in the evenings as tackling the bridge at night was a risky experience. I am 77 years old and feel have only a few more years to take advantage of all these things which have now become out of reach."
Francesca who works in a school and her son, an apprentice plumber, still don't know how they will get to work and adds, "For the start of the new term I was planning to cycle to West Kensington to the school I work in. Hammersmith Bridge was the direct route and half the distance I will have to do now. I am 62 not particularly physically strong and the new bike route would involve lugging my heavy bike up the steep and narrow ramp at Barnes Bridge. I am seriously considering braving the traffic, leaving much earlier and using my car!
"My youngest son is an apprentice plumber working all over west London and will now have no direct route as he carries his heavy tools on a greatly increased journey."

The campaigners have drawn up a list of question they want answered from the various authorities responsible for the bridge. Of Hammersmith and Fulham Council they want an update on the bridge's condition and the plans for a temporary bridge as well as any news of a ferry service that was previously mentioned as a possibility. Of Richmond Council they want to know what the council will be doing to help residents impacted by the bridge closure. Their questions to the Mayor include how much is left of the £25 million set aside for repairing the bridge and how much was spent on Transport for London's 'Bike It. Walk It' campaign.
Finally, they are asking transport ministers Grant Shapps and Baroness Vere to make good on their earlier promises of quick solutions to the issue.

September 4, 2020