Local activists want it to become London's first garden bridge

Extinction Rebellion event on Hammersmith Bridge
Members of Extinction Rebellion Hammersmith & Fulham occupied Hammersmith Bridge this weekend (Saturday 18 July) and called for it to be reinvented as an active travel bridge rather than repaired to take motor traffic.
They gave the some much-needed love by decorating it with bunting, ribbons, chalk paintings and colourful signage and held a socially distanced event which included music and children playing hopscotch.
The bridge has been an abandoned building site for the last month with plenty of fencing, cones and signage - but no actual work going on.
The local activists invited people using the bridge to imagine it would be like in a car free future with it perhaps becoming London's first garden bridge. They held a poll asking what modes of transport the bridge should be open to and said that there were lots of constructive conversations with residents of Hammersmith and Barnes.
XR claim that, while many of the 20,000 vehicles that used to cross the bridge each day have been displaced elsewhere, many journeys have simply evaporated and that it should be return to car free usage as it was originally designed for by the Victorians.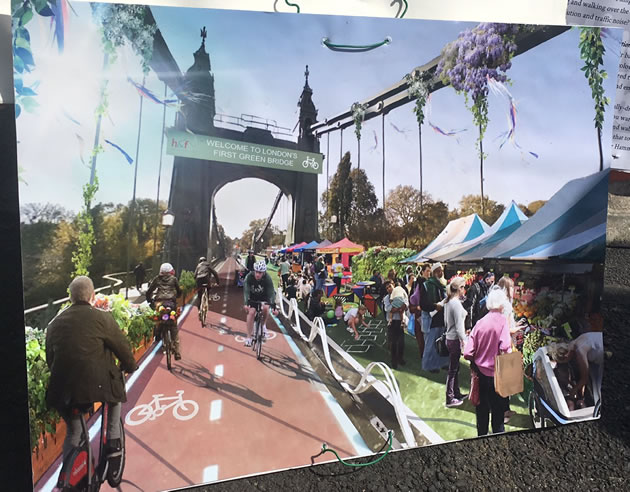 Visualisation of how bridge might look
However, at about 1pm the police asked them to remove the poll information board and the bunting they had put up. They claim that the police had originally been happy for them to be on the bridge but asked them to leave when instructed to do so by H&F Council. The reported reason was that the borough's contract with the construction company required the flow of people across the bridge to be continuous and that stopping and chatting on the bridge renders you liable to arrest.
A spokesperson for XR said, "LBHF is happy for a big construction company to leave its fencing all over the bridge for months, closing off whole sections from the pedestrians, creating narrow corridors for pedestrians at each end of the bridge, rendering it inaccessible to the rickshaw service that has been carrying people who can't walk or cycle across the bridge all year, forcing cyclists to push their bikes, and requiring four 'social distancing marshals' to be on duty all day every day (who is paying for all this??), while it waits for government funding (which may or may not ever materialise: who knows?) to continue the repair project. However, if a group of local residents put up some bunting and engage passers-by in conversation about what they want for the bridge's future, that is totally unacceptable..."
Over 600 people responded to the poll with two thirds saying their preferred option was that the bridge should provide a lightweight shuttle service of the elderly and disabled as well as continuing to allow walking and cycling across. 23% said buses should still be allowed to use the bridge, 7% buses and cars and 4% said that it should operate as a toll bridge. These results are not in line with other indications of public views which suggest a far higher proportion of people want it to fully reopen to motor vehicles.
Recently Deputy Mayor, Heidi Alexander said the bridge was 'shovel ready' for repairs to proceed but the project had been parked until the issue of how it was to be paid for was resolved between the Mayor and the government.

July 20, 2020