Robert Jenrick says structure won't have significant effect on environment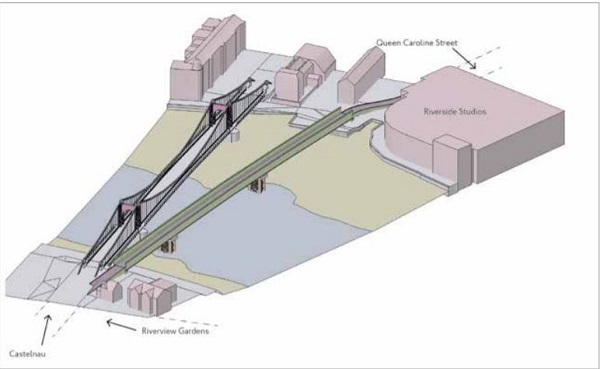 CGI of the proposed temporary bridge
Housing, Communities & Local Government secretary Robert Jenrick has rejected a call from a group of residents that more tests need to be carried out to assess the environmental impact of the temporary bridge proposed in Hammersmith.
A planning application has been submitted by TfL for the cycling and pedestrian structure which would run parallel to Hammersmith Bridge while it is being repaired.
According to an article on the New Civil Engineer (NCE) web site, a letter was sent to the minister on behalf of residents by Richard Buxton Solicitors, This made a formal request for Mr Jenrick to order a screening direction under the Environmental Impact Assessment (EIA) Regulations 2017 and would have entailed a more rigorous assessment of the environmental impact of the structure.
The letter from the solicitor cited local concerns about diverting traffic away from Hammersmith Bridge which prior to closure recorded daily crossings of 22,000 vehicles and 1,800 buses.
A civil servant replying on behalf of the minister denied the request saying that the secretary of state believed "the proposal is not likely to have significant effects on the environment".
The NCE quotes the letter as saying, "The proposed temporary cycle/pedestrian bridge is unlikely to add to air quality issues given that the bridge closed to traffic in April 2019 and any pollution created by the construction of the temporary bridge will be temporary," the response states.
"As the Temporary Bridge is a mostly pre-fabricated structure, there is the potential for it to be reused, which will increase the lifecycle of materials, and avoid carbon emissions associated with embedded carbon. […] Therefore, there will be no permanent significant effects on land use due to construction, operation and decommissioning."
The temporary bridge is a seven metre-wide, prefabricated steel structure, supported by two piers in the river with an estimated cost of £5 million. The bridge would be step free, with a 5.5 metre-wide surface for people walking and cycling. Access would be by shallow ramps from Queen Caroline Street on the north bank and from close to the junction of Castelnau and Riverview Gardens on the south bank. TfL would need planning permission from both Richmond and Hammersmith & Fulham councils and a decision was originally anticipated this summer.
Last month Deputy Mayor Heidi Alexander said that talks on funding the repairs of the existing bridge have been paused amid the Covid-19 outbreak. The project to fully reopen the bridge is estimated to cost £120mn and take three year. £10 million has already been spent on feasibility studies, monitoring and initial repairs with another £15 million budgeted to be spent this year.
July 15, 2020