Bombshell announcement from Stamford Bridge on Thursday
Chelsea FC has announced on Thursday 31 May that its plans to build a new stadium at Stamford Bridge have been put on hold.
The club said: "Chelsea Football Club announces today that it has put its new stadium project on hold. No further pre-construction design and planning work will occur."

It adds: "The club does not have a time frame set for reconsideration of its decision.
"The decision was made due to the current unfavourable investment climate."

Plans for the new stadium had been approved by H&F Council and Mayor Sadiq Khan.

However, the time frame for construction of the stadium had since slipped, with the latest estimate for the start of the project moved back to the summer of 2021.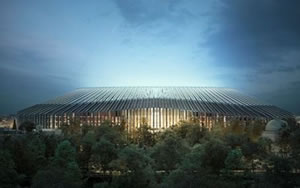 The club had hoped to demolish the current stadium along with all the other buildings on the site including flats, hotels and health club and build a new stadium on the existing Stamford Bridge site which would hold 60,000 spectators instead of the current total of 41,500 and include an elevated walkway over the District and West London railway lines.
The stadium was designed by architects by Herzog & de Meuron, who also designed the Beijing Olympic Stadium and was expected to cost owner Roman Abramovich upwards of £500 million.
The club's planning application, which was slightly revised in August 2016, was as follows:
Demolition of existing stadium and buildings within Stamford Bridge Grounds and construction of a new 60,000 capacity football stadium (Class D2) with ancillary stadium-related uses including a Combined Heat and Power (CHP) plant, Club shop, kiosks and museum; restaurant/café (Class A3); together with the construction of a Decking Platform over the District Line railway to the north-west and a Decking Platform over the Southern mainline railway to the east; external concourse areas; associated excavation works; new pedestrian access from Fulham Broadway Station and Fulham Road; new vehicular access via Wansdown Place; car parking; landscaping and related works. ('Amended Proposed Development').
May 31, 2018