Sadiq Khan promises an extra £30 million to plug funding gap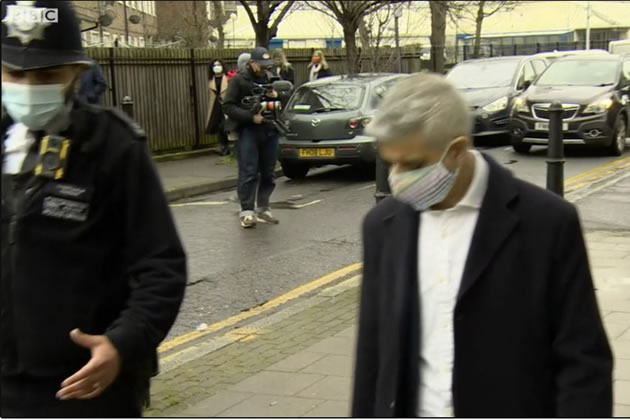 Mayor joins police officers on the beat
Mayor of London Sadiq Khan announced this Tuesday (16 February) an extra £30 million a year to protect Metropolitan Police officer numbers until at least 2025.
The new funding will come from council tax and will protect the jobs of around 1,000 police officers that were at risk due to the impact of Covid-19 on City Hall finances.
Sadiq Khan also announced a further £8 million investment for prevention programmes to tackle violent crime in London.
Mr Khan said, "We've worked hard to tackle violence in our city, and it started to fall well before the pandemic hit and has continued to do so. But I am not content or complacent, we still have a long way to go.
"If we are to see the long-term reductions in violence that we all want to see in our city, we must continue to tackle the underlying causes of crime, such as poverty, deprivation and lack of opportunities for young Londoners.
"I'm doing everything I can from City Hall to reduce violence, but it's clear we still have huge financial challenges ahead because the Government has implemented a new era of austerity on public services in London. Ministers must now match my commitment to tackling this issue and fully refund City Hall and the Met for all the lost income and money spent tackling the pandemic."
Including the additional funds announced today, Sadiq Khan has now spent £1.08 billion on policing in London since becoming mayor in 2016.
Last year, the Mayor of London proposed plans to use £118 million of City Hall reserves to make up for the drastic fall in business rates cause by the pandemic and protect frontline officer numbers for two years.
But the additional £30 million a year announced today will cover half the annual cost of keeping officers on the street meaning that the reserves will last for four years.
Unmesh Desai, Labour's London Assembly Policing and Crime Spokesperson welcomed the announcement of extra funding and said City Hall had "strived" to plug the "huge funding gaps" left by ministers in the past five years.
Mr Desai said: "The London Assembly has always fought hard on the need for more funding and this new package will be aimed towards keeping an extra 1,000 officers on our streets, which will be essential if we're to head-off a potential rise in violent crime as lockdown measures are slowly eased.
"It's also positive to see City Hall continue to target significant investment at early intervention initiatives to protect the most vulnerable young Londoners from the clutches of gangs. Keeping the right balance between enforcement and prevention is key to tackling serious violence.
"There's no doubt that COVID-19 has been a drain on all of London's emergency services, and it's time for the Government to refund the capital with the money that's gone into tackling this virus and keeping everyone safe."
This Tuesday morning, Sadiq Khan's Conservative mayoral election rival Shaun Bailey announced his plans to put 8,000 new police officers on the streets by the end of his first term if he is voted in on 6 May.
Mr Bailey hit out at Sadiq Khan for overseeing "a historic level of homicide" in London and said that the announcement of extra funding today "would have been much easier to stomach if, as one of his first acts as Mayor of London, he didn't remove £38 million from the police staffing budget".

Joe Talora - Local Democracy Reporter

February 16, 2021