Sadiq Khan says it is shameful some homeowners will still pay for removal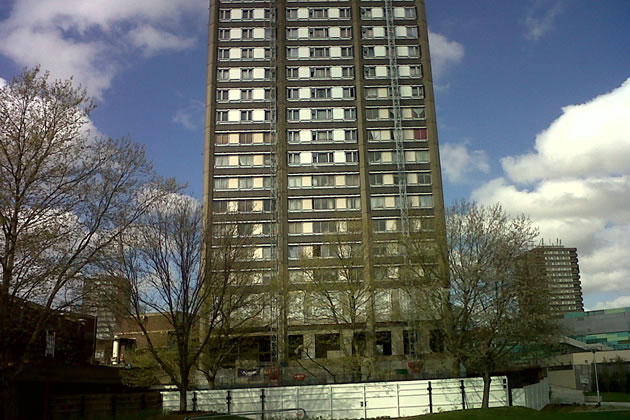 Grenfell Tower before the fire. Picture: Published with kind permission
The Mayor of London has said it is "shameful" that some people will still have to pay to have unsafe cladding removed from their buildings following the Government's announcement of additional funding.
Housing Secretary Robert Jenrick this Wednesday announced £3.5 billion of additional funding to remove cladding from buildings over 18 metres tall but said that those who wished to remove cladding from smaller buildings would have access to loans and would pay back no more than £50 a month.
Sadiq Khan said, "It is shameful for Ministers to tell some leaseholders that they will have to pay to fix building safety problems they played no part in causing."
A report from the London Assembly's fire, resilience and emergency planning committee released last month revealed that around two-thirds of private residential buildings in London that were identified as high-risk had still not had unsafe cladding removed.
The report also noted concerns that the existing £1.6 billion of funding from the Government's Building Safety Programme was not reaching enough people as it only covered buildings over 18 metres tall, something that also applies to the new wave of funding.
Fire safety defects in buildings that are below 18m tall are "widespread" according to the report, and many leaseholders are having to use their own money to pay to have defects fixed, leaving them facing bankruptcy or the loss of their homes.
Andrew Dismore, Labour's London Assembly fire and resilience spokesperson, said that the new funding announced "simply does not go far enough" and called the offer of loans "completely unacceptable".
Mr Dismore said, "Any new funding aimed at stripping unsafe cladding to protect Londoners is welcome. However, Ministers are aware of the huge scale of cladding scandal and this package simply does not go far enough.
"The offer of loans to leaseholders in low-to-medium-rise buildings, between 11 and 18 metres, is also completely unacceptable. London's beleaguered leaseholders are already facing financial ruin due to the Government's inertia - and now they face being saddled with more debt."
Liberal Democrat Assembly Member Caroline Pidgeon also criticised the Government's decision and said it had left her feeling "frustrated".
She said, "This Government announcement flies in the face of the Prime Minister's assurance just last week that no leaseholders would have to pay the costs for remediation.
"I'm particularly frustrated on behalf of Londoners living in buildings under 18m tall with dangerous cladding or fire safety defects. The Government should not be setting up a loans-based system for these leaseholders, which could see them paying up to £50 a month for years to come. Government must increase the proposed developer levy to ensure no innocent leaseholders pay.
"It also seems the case that Government will only fund the remediation of dangerous cladding and not other serious unresolved fire safety defects. This will leave thousands footing expensive remediation bills and living in dangerous homes. This crisis is far from resolved."
In addition to the £3.5 billion of extra funding, Housing Secretary Robert Jenrick also announced a levy on developers of future high-rise buildings that will contribute towards grants for the remediation of fire safety defects.
Joe Talora - Local Democracy Reporter

February 11, 2021