Casacosta on North End Road started life in lockdown as a shop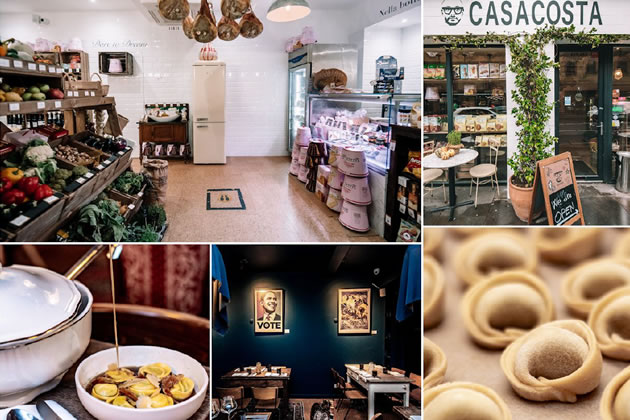 The day after London emerges from the second lockdown a new restaurant is set to open on the North End Road.
Restaurateur Roberto Costa started his venture as an online shop and is promising to bring the very best ingredients from his home country to London with hand-selected produce from trusted suppliers.
The shop opened to retail trade in October as a quintessential Italian kitchen, larder and butcher with shelves are lined with fresh vegetables and fruit, cheeses and charcuterie, breads and cakes as well as pantry items including Italian pasta and sauces. Customers can also pick up freshly made ready
meals for those who want meals at home alongside Italian wines, beer and pre-made cocktails.
Hidden behind a secret entrance inside the shop, the restaurant will open on 3 December serving a concise menu that celebrates the home-cooked meals served on dinner tables throughout Italy.
Modelled on Roberto's own living room to create a home away from home for his guests, the restaurant aims for a cosy and intimate atmosphere with dark blue walls decorated with art prints.
Plates of antipasti feature charcuterie and freshly baked focaccia alongside burrata and stracciatella cheeses.
This can be followed with classic dishes of pasta from aglio, olio & habanero (creamy garlic sauce topped with toasted habanero breadcrumbs), tortellini in brodo (freshly made tortellini in chicken broth, crispy chicken skin and parmigiana reggiano), and lasagne.
Secondi will include dishes of polpette di fassona (meatballs made of fassona beef in passata), vegetarian burger, and merluzzo alla Palermitana (pan-fried cod with capers, anchovies and onion served with tomato sauce).
A list of ever-changing specials will also be on the menu, created by the chefs who will pick what looks good from the shop's shelves that day.
Roberto promises to inject theatre into the service of the dining room. The steak tartare will be made at the table, giving diners the chance to choose the ingredients that will go into their own dish.
The pasta will be served at the table with the waiter pouring the sauce on top of the dish in front of diners to resemble the Vesuvius volcano.
Sweet tooths will be indulged with dolci such as tiramisu, brioche & gelato, tartelleta di pere (cocoa pastry, caramelised pears, sweet ricotta and chocolate marzipan), and pan di Spagna al caffe (coffee sponge with gianduia cream and chocolate).
The amaro bar will serve cocktails including amaro itself, an Italian herbal liqueur that is commonly consumed as an after-dinner digestif, and will display bottles of Italian wine to tempt diners.
Roberto Costa brought Macellaio RC, the artisan steak restaurant and butchery group to the UK, and he says he is passionate about showcasing the very best ingredients from his home country, hand-selecting items from trusted producers.
In May 2017, he became the first Gourmet Ambassador to his birth town of Genoa. He claims a passion for food is part of his DNA and has gone to huge lengths to research, sample and connect with the best producers over his thirty years of experience.
The restaurant will open on 3 December for its soft opening phase. Bookings are live now using the email address info@casacosta.co.uk for dinner service Thursday - Saturday evenings as well as Sunday lunch.
December 23, 2019