After concerns raised by Green Party member about fate of existing businesses
Transport for London's plans to build new homes on the Parsons Green depot site are to be "called in" by Mayor of London Boris Johnson.
That means he will reviews the plans to build 119 new homes plus retail and office space, in response to concerns raised at Mayor's Question Time by the Green Party's London Assembly Member Jenny Jones.
She has worries about the existing businesses which will be displaced, including photography, interior design, framers, printers, furniture makers and car storage companies, which provide a total of 254 jobs.
Jenny Jones says: " I'm glad the Mayor recognises the intense pressures on small businesses in London, and will review TfL's plans to make matters worse for the businesses at the depot.
" I've heard from businesses across London facing similar problems from the rush to build flats. We shouldn't fix our housing crisis in a way that will create a jobs and small business crisis."
Transport for London submitted a planning application for the redevelopment of the former depot in autumn, following a public consultation.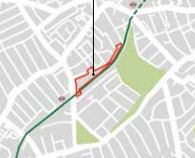 The proposed development is on the site, shown on this map, of a former London Underground depot adjacent to Parsons Green Tube station, which is currently used as workspace. The scheme will deliver 119 new homes, 40% of which will be affordable, as well as over 4,000 sq metres of retail, workspace and restaurants.
The development will also support around 300 jobs and enable the opening of three arches for commercial use.
TfL says this application, along with two others in Nine Elms and Northwood, is the first wave of its programme of property development which will create more than 600 new homes for Londoners along with new workspaces, retail units, high quality public spaces and £100m that will be reinvested in the transport network.
Graeme Craig, Director of Commercial Development at TfL, says: " The three planning applications we have submitted are the first step in our ambitious programme of development, which will create much needed homes, jobs, offices and retail space across London.
"We are working closely with local communities and boroughs to shape these proposals so that they meet local aspirations and deliver real local improvements. The three sites demonstrate the varied nature of our landholdings, and the potential they have to create economic growth across London whilst providing vital revenues to invest in running and modernising the transport network."
You can find out more about the proposals and give your feedback at the Parsons Green Depot website.
November 20, 2015