2 Vanston Place described by agent as 'unique in every respect'
The building created on the site of the former Walham Green Toilets at 2 Vanston Place has been put up for rent by the owner.
It's yet another twist in the saga of Fulham's famous loos with a view, which were sold at an auction three and a half years ago for an astonishing £585,000.
At the time auctioneers Allsop, who sold the dilapidated property at a commercial auction held in the Park Lane Hotel, Piccadilly on Tuesday February 5, had listed it with a guide price of just £190,000 - £200,000.
And that wasn't the first time the building had fetched an unexpectedly high price at auction. Nearly five years before, in October 2008, it was sold by Hammersmith and Fulham Council for £403,000 - four times the amount expected.
The building was described by auctioneer Allsop as a freehold development opportunity in a very prominent corner position with full planning consent for a restaurant with public alfresco roof terrace.
Planning permission had been granted in 2012 to transform the building into a restaurant and the buyer was Italian businessman Luciano Lo Dico who planned to turn it into an ice cream parlour.
Mr Lo Dico said: " It is a very good location and the rooftop would be perfect for eating ice-cream and watching the world go by."
Since 2013, the former Victorian loos have been transformed into a modern building complete with terrace overlooking the busy North End Road and its market.
However despite extensive renovations, the building has remained empty and it is now to let through commercial agent MJ Finn, who describe it as 'completely unique in all respects', with rent priced £120,000 per annum.
Facilities in the building include basement, ground floor, first floor terrace with void for dumb waiter - and of course toilets!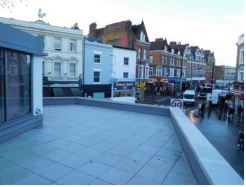 Find out more about the building here.