Married consultant and nurse to cycle 100 miles for charity Beating Bowel Cancer
They are Consultant General and Colorectal Surgeon, Peter Dawson, and Colorectal Nurse Endoscopist, Charlotte Dawson from Chelsea & Westminster Hospital NHS Foundation Trust.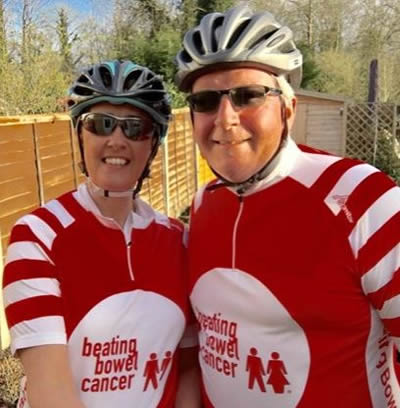 Bowel cancer is one of the most common types of cancer in the UK with about 1 in 20 people developing the disease in their lifetime. According to Beating Bowel Cancer, every year around 41,000 people in the UK are diagnosed with bowel cancer, but if caught early, more than 90% of cases can be treated successfully.
This charity is very important to the husband and wife team as they both deal with the effects of the disease on a daily basis at the Trust. Charlotte is also the Senior Nurse Advisor on Beating Bowel Cancer's Nurse Helpline and Peter is President of the Association of Coloproctology of Great Britain and Ireland.
Peter said: " Bowel cancer is the second biggest cancer killer in the UK, often because patients are not aware of the symptoms, and therefore they are diagnosed too late to be treated successfully. However, with early intervention most cases can be treated successfully which is why we want to raise awareness of the disease."
The three main symptoms of bowel cancer are blood in the stools (faeces), changes in bowel habit – such as more frequent, looser stools, and abdominal pain.
Charlotte said: "We see and hear on a daily basis the effect that a diagnosis of bowel cancer has on both the patient and their loved ones. We want to do as much as we can to help to raise funds for the charity Beating Bowel Cancer, who do so much for those affected by the disease."
Beating Bowel Cancer provides awareness, support and information for everyone affected by bowel cancer, both patients and their loved ones. The charity also runs a vital nurse advisory service – the only one in the country- specifically for people affected by bowel cancer.
The Ride London challenge will begin in the Queen Elizabeth Olympic Park before following a 100-mile route through the capital and into Surrey's stunning countryside, before finishing on the Mall in central London.
To donate to Charlotte and Peter's fundraising efforts please visit their JustGiving page
or to donate by text message; to donate £10 text PDCD61 £10 to 70070.