Donald Trump Takes Another Pop At US Embassy In Wandsworth
---
Calling Nine Elms location "lousy'" and "horrible"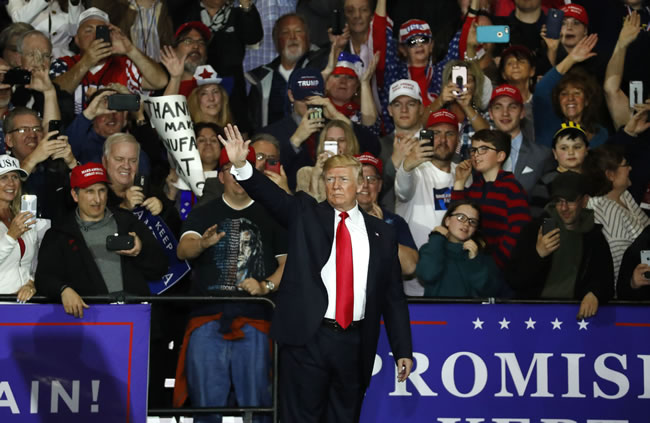 Ahead of his planned visit to the UK this Summer, Donald Trump has again criticised the choice of location for the new US Embassy which opened in Nine Elms this January.

Speaking at a rally in Michigan over the weekend he complained that, "We had the best site in all of London. The best site. But some genius said 'we're gonna sell the site and then we're going to take the money and build a new embassy'. That sounds good right? But you have to have money left over if you do that, right?".

He goes on to say that, "They sold the site for like, I think, and I'll check the numbers... but these numbers are close enough. They sold the site for something like $250 million - they think they're geniuses. They go out and they buy a horrible location and they build a new embassy. That's the good news. The bad news is that the embassy costs over a billion dollars."

At this point in the rally shouts of dismay are heard and President Trump continues, "So now what do we have? We have a new embassy in a lousy location and I was supposed to cut the ribbon. I didn't do the deal, it was started by Bush and Obama, it was a Bush/Obama special. They wanted me to cut the ribbon on the new embassy and I was all set and then in the end I said, 'Im not going. I don't wanna go. I said I'm not cutting that ribbon. I said I'm not going.' "

He ends that part of his speech with, "Hey, hopefully we'll have many years of success with that embassy."



The new US Embassy in Nine Elms

The amount paid for the old US Embassy site in Grosvenor Square has never actually been disclosed. Qatari Diar, the property development company behind The Shard and the Chelsea Barracks redevelopment, plans to turn the old embassy into a luxury hotel. The sale was made in 2008 for an estimated figure of around £500 million (around $700 million).

The new embassy in Nine Elms was built at a cost of around $1.2 billion. The US embassy released a statement saying, 'The £800 million project has been funded entirely by the proceeds of the sale of other US government properties in London.'

The plot of land for the new building in Nine Elms was bought in 2008, when President George Bush was in the White House. The then US Ambassador to Britain, Louis Susman, said that the embassy must move from its current central London location because the 1950s building in Grosvenor Square was too small, outdated and hard to defend from security threat.
April 30, 2018