Member of staff attacked in Bloemfontein Road when emptying slot machine
On Wednesday, 28 February a member of staff at the premises on Bloemfontein Road was punched in the face by a man as he stole money she had been collecting from a slot machine.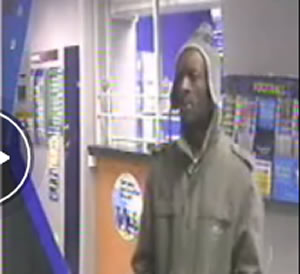 Picture of the man wanted by police
The victim told officers that at approximately 9pm the man entered the shop and started to use one of the slot machines. He was the only customer in the shop.
At around 9.20pm the victim entered the shop floor and emptied the cash from a slot machine into three containers. The man approached from behind and tried to grab the containers and a struggle ensued.
The man punched the staff member in the face, took the containers and ran out from the store heading south down Bloemfontein Road towards South Africa Road.
The victim suffered minor injuries and declined any medical treatment at the scene.
Her attacker is described as a black male believed to be aged between 30-40 years old; 6ft tall; slim build and a slim face and short hair.
Detective Constable Lee Davison from the Met's Flying Squad, said: "No one should ever have to feel victimised in their place of work or expect to be physically assaulted, regardless of their occupation.
"I would like to hear from anyone who may recognise or be able to identify this man as soon as possible so that we can question him about the robbery and assault. If he is known to you, please call the police as soon as possible."
Anyone with information is asked to call 101 and quote 8494/28Feb18; you can tweet information to @MetCC. Alternatively, call Crimestoppers anonymously on 0800 555 111.

June 25, 2018