Wanted by Thames Festival to explore social history since the 1950s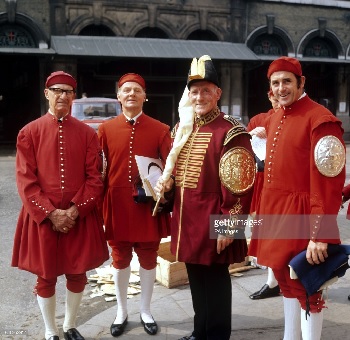 Starter and umpire Charles Taylor (black hat) with other Doggett's Coat and Badge members (Getty images)
Thames Festival Trust are looking for volunteers to research and record oral histories of those involved with rowing on the Thames over the last 70 years that will form part a forthcoming exhibition and online collection.

This new heritage project explores the social history of working class rowing along the River Thames since the 1950s highlighting the Race for Doggett's Coat & Badge – the oldest continuously competed sporting event in the world and its significance to the community of Thames Watermen and Lightermen.

Working with the Thames Festival Trust team and Jen Kavanagh, Curator & Oral Historian, volunteers will be given extensive training in conducting oral history interviews, researching the history and training on using London archives.
Enthusiastic volunteers are wanted who can give around five days of their time between May-July and you will be required to attend a full day introduction and training on Monday 14 May.
If you're interested in gaining new skills and learning about the history of rowing on the Thames then take a look at the Oral History Volunteer Role Description and complete the online application by Friday 27 April. If you have any queries or questions relating to the opportunity then please contact us on recruitment@thamesfestival.org.
Please note all applicants must be able to attend a full day introduction and training on Monday 14 May.

April 23, 2018