The body of Sophie Lionnet was found on a bonfire in the couple's back garden
Sabrina Kouider and Ouissem Medouni were sentenced at the Old Bailey this Tuesday (26 June 26th) to at least 30 years in prison for the murder of their nanny.
Kouider, aged 35, and Medouni, 40, were both found guilty in May of murdering Sophie Lionnet from Troyes in France, in September, 2017 at the house where they lived with their two children in Wimbledon Park Road.

Ms Lionnet had been tortured and starved by the couple in the months leading up to her murder. Her ordeal culminated in a series of 'interrogations' conducted by the duo over a 12-day period, in a bid to force the nanny to confess to various false crimes they had accused her of. Kouider recorded and filmed some of these sessions - in which she played 'hard cop' to Medouni's 'soft cop' - on her phone, which they planned to hand over to police as 'evidence' of the nanny's guilt.

A still image of Sophie from a video on 18 September shows her with her eyes downcast, looking scared, pale and emaciated - and just two days later, on 20 September, firefighters made the horrific discovery of her body on the patio in the back garden. Medouni was trying to burn her corpse with caustic acid in a bid to eliminate any trace that Sophie had ever existed.

A neighbour had rung the fire brigade on the afternoon of 20 September after becoming concerned at the excessive amount of smoke.
Firefighters arrived to discover Medouni cooking food on a barbecue in an attempt to disguise his real purpose of rendering the body unrecognisable - he had even scattered bits of cooked chicken on top of Sophie's charred body as part of the elaborate charade.
A post-mortem examination on Sophie's body could not determine the cause of death and it was only weeks later, on 3 October, that Sophie was identified through DNA. Kouider, a self-styled fashion designer/stylist who liked to boast of mixing with celebrities, and Medouni, a self-employed businessman, were charged on 22 September.
Sophie had first got the job after meeting Kouider's brother in France, and initially things appeared to go well. However as the months went on, it became apparent to those who knew her that Sophie had been inveigled into a uniquely bizarre and oppressive household ruled by Kouider's violent mood swings.

Kouider was obsessed with the father of her youngest child, her ex-partner Mark Walton, a co-founder member of the Irish band Boyzone. She accused Sophie of being in league with Mr Walton, now a music producer living in Los Angeles, to concoct a plot that would see Kouider and Medouni framed for crimes against their children and win Walton custody of his son.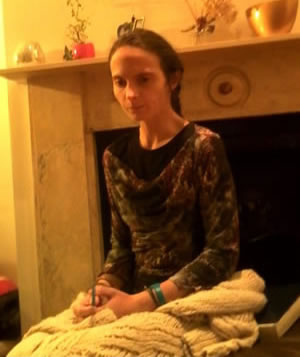 Sophie Lionnet two days before her murder

At the Old Bailey yesterday Judge Nicholas Hilliard QC told Kouider and Medouni, "It is plain from all the evidence that Sophie was a kind, gentle and good natured girl... The suffering and torture you put her through before her death was prolonged and without pity."
Detective Inspector Domenica Catino, of the Met's Homicide and Major Crime Command, said, "This has been an extremely harrowing and tragic case. Both Ouissem Medouni and Sabrina Kouider have robbed Sophie Lionnet, who was only 21, of her promising life and took her from her family and friends, who will never again get to see a beloved daughter, sister and friend.
"We will never know the full extent of the horrors Sophie had to endure as not all the 'interrogations' were recorded. Even in death the torture, abuse and humiliation continued by placing her partially-clothed body into a suitcase with no regard for even a semblance of a burial, before taking the callous decision to burn her in an attempt to hide their murderous act."
June 27, 2018