Young actors shine in new play taking a peek inside the rehearsal room
The Lyric Hammersmith's new play Abandon eavesdrops on a group of aspiring actors in the the reheasal room - quite literally, as the play is staged in a rehearsal room within the theatre's Reuben Foundation wing.
The play is created and performed by the Lyric Ensemble, a group of 15 aspiring actors aged 18 - 15 working and training two nights a week over nine months with international director Anne-Louise Sarks, the Lyric's Director of Young People Nicholai La Barrie, the Lyric's Artistic Director Sean Holmes, writer Laura Lomas and the Lyric's Artistic Associates.
Described as a "love letter to the theatre" the 60 minute play imitates life by offering glimpses into the lives of a disparate group of young actors as they meet to rehearse and gradually bond as group and find warmth, acceptance and fun.
The Lyric Ensemble was created to help the development of young aspiring actors from diverse backgrounds who do not have access to professional training.
The cast are: Michael Adewale, Daniel Boulton, Jack Clearwater, Brandon Grace, Shakeel Haakim, Samarge Hamilton, James Monckton, Ruth Oyediran, Tiwalade Ibirogba-Olulode, Nkhanise Phiri, Zara Ramtohul-Akbar, Ella Stokes, Isabella Shaw, Katie Friedli Walton and Marie Williamson.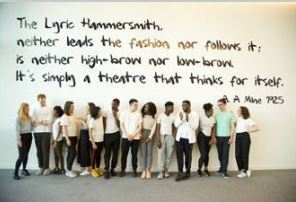 Abandon marks the end of this group's year of mentoring and support at the Lyric. Auditions for this year's Ensemble will take place in September.
You can find out more about the Lyric Ensemble programme, which is supported by by the Andrew Lloyd Webber Foundation and the McGrath Charitable Trust here.
Abandon continues at The Lyric Hammersmith until 30 June. Tickets priced £10 are available online or call the box office on 020 8741 6850.
June 22, 2018