Penny Flood enjoys the jumps and scares but says this mix is a muddle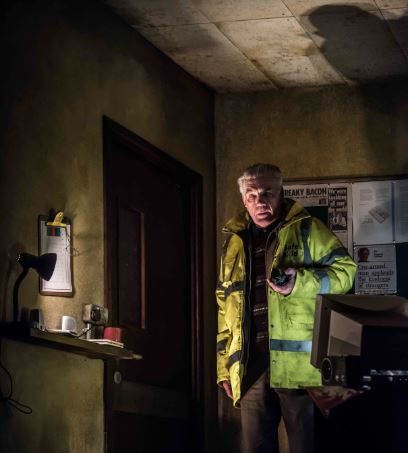 Ghost Stories is a curious juxtaposition of scary, screamy comedy and something a lot more serious; two extremes that make strange bedfellows that need careful handling.
This is its second time at the Lyric after a successful tour of the UK when it won some awards and was made into a film. So, I accept I am probably in a small minority, but it didn't work for me.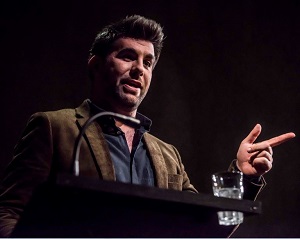 It begins as a lecture by Professor Goodman (Simon Lipkin) a specialist in the paranormal, a cynic whose life's mission is to prove that ghosts and other manifestations of the paranormal don't exist. An uphill task that night judging by a poll of the audience!
As his lecture goes on (and on) we are shown recordings of his interviews with three people who believe they have had meetings with supernatural beings. There's ex-con Tony (Gary Cooper) working as a night watchman in a dark building; Simon (Preston Nyman) whose car has stopped in a deserted lane on a dark night; and Mike (Richard Sutton) a successful, sophisticated businessman and new father whose house is plagued by a poltergeist.
These stories are the best bits as lights flicker and go out, things appear and disappear, there are strange noises, mysterious bodies, inanimate objects that move, strange messages on the walkie-talkies and lots more. Great stuff, it's meant to make you jump and it does. It's also very funny.
In between these events we are back with Professor Goodman and his lecture, trying to assure us that what we had just witnessed was just the deranged thoughts of people with something to hide.
Then things take a twist, even darker than anything we've seen up till then as it brings in anti-semitism, bullying and worse. It is actually a good story, but the way it's presented here weakened what could have been a very strong point.
The ghost stories were entertaining and amusing, the lecture was tedious (they tried to make it funny but it wasn't), it was beginning to drag and the plot twist came in too late to make it interesting.
And it was all a bit of a muddle, not helped by the four characters, plus a ghoul who doesn't get a credit, turning up in different roles. By that time it had stopped making any sense.
It only lasted 80 minutes but it felt longer, and not in a good way.
Ghost Stories continues at the Lyric Hammersmith until 11 May and alongside its run, the Lyric is launching new new Friday Film Nights with four horror film screenings, personally selected by Andy Nyman and Jeremy Dyson, shown in the theatre's intimate 54 seat cinema during Ghost Stories' run.
Jeremy Dyson has chosen the 1980 cult classic The Fog, directed by John Carpenter, for tonight, Friday 12 April at 8:30pm, and 2013's supernatural horror Mama, directed by Andy Mushietti, for Friday 26 April at 8:30pm.
Andy Nyman has selected the 1975 Italian thriller-horror Deep Red, directed by Dario Argento, for Friday 19 April at 8:30pm and Japanese thriller Audition, directed by Takashi Miike for Friday 3 May at 8:30pm.

Jeremy and Andy will also provide introductions to each film explaining why these are some of their favourite horror films.
All tickets for Friday Film Nights are £6. Film & Theatre Combo Ticket: £35. (Buy a Band B Ghost Stories ticket for Friday performances at 7pm and on the same night a Friday Film Night ticket to receive the discount).

Tickets can be booked by calling the box office on 020 8741 6850 or online.
April 12, 2019