Northbound segregated path being added following completion of repair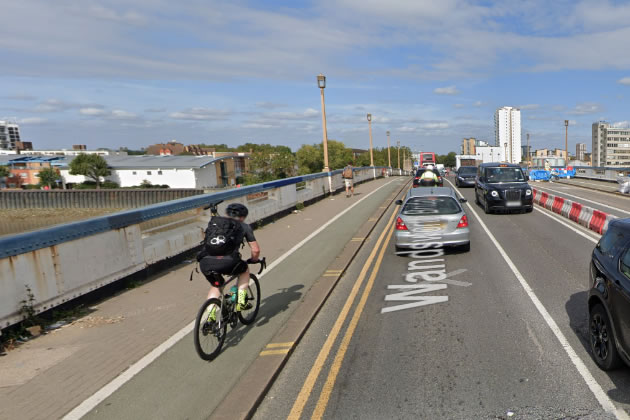 The previous cycle lane on Wandsworth Bridge. Picture: Google Streetview
October 13, 2023
Provision for cyclists is set to improve at a bridge over the River Thames with the introduction of a new segregated cycle lane later this month. The measure is part of a wider programme of works at Wandsworth Bridge, which is 83 years old.
The two-metre-wide segregated cycle lane will run northbound over the bridge from Wandsworth roundabout to the junction with Carnwath Road in Hammersmith and Fulham. The existing southbound cycle lane is being kept on the bridge, while a new northbound bus lane is also being introduced.
Wandsworth Council said the changes are set to be introduced later this month under a temporary traffic order. It said discussions with Hammersmith and Fulham Council and Transport for London (TfL) on the introduction of a cycle lane scheme covering a wider area are ongoing.
It follows the completion of major repairs at the bridge, which reopened in both directions to vehicles on 1 October after closing for 10 weeks. The scheme involved replacing crucial bearings in its sub-structure to make sure it stays stable over the coming decades.
Labour councillor Jenny Yates, cabinet member for transport, said there had been a big increase in the number of people cycling over the bridge in recent years. She said it was important for the council to put in place "measures that make those journeys safer".
Councillor Yates added, "Many journeys in the city are relatively short and we want to support people to make them by bike or on foot if they can. Walking and cycling is good for health and wellbeing and helps improve the air we all breathe. That's why we are working hard to improve our cycling infrastructure to make it easier for people to unlock the benefits of active travel.
"Improving this infrastructure will play a pivotal role in achieving our target for 78per cent of trips by residents to be by walking, cycling and public transport by 2030."

Charlotte Lilywhite - Local Democracy Reporter