30-minute on the spot tests to be supplied for families of residents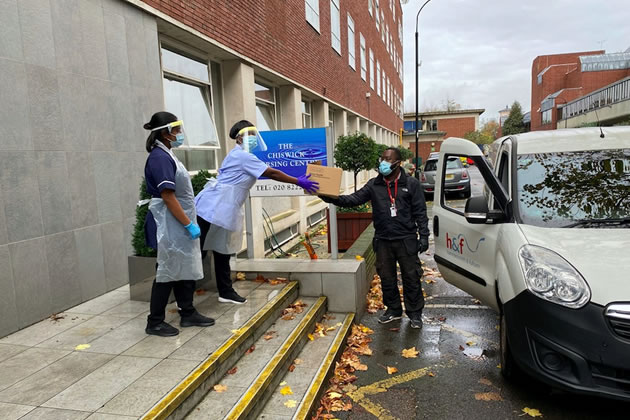 Tests being delivered to the Chiswick Nursing Centre
Hammersmith and Fulham council has vowed relatives would be able to see their loved one in care homes this Christmas as they started planning 30 minute on the spot Covid tests for families.
The council began borough-wide targeted coronavirus testing this week using the lateral flow swabs – piloted in Liverpool – which produce results in under an hour.
The council, which is running the operation in conjunction with the Government, will initially test asymptomatic frontline workers in nursing homes and in GP practices, followed by school staff, social workers, people in sheltered homes and other key workers.
But in the run-up to Christmas anyone wanting to visit a care home will also get a test to ensure they can see their loved ones without risk of spreading the virus to the most vulnerable.
Thousands of care home residents have been unable to see family members in person since lockdown began in March and many are facing a Christmas alone after a rise in virus cases.
"We're doing all we can to make the holidays easier for families," said cabinet member for health Ben Coleman.
"Our goal is for everyone to see their loved ones safely in our care homes by getting a test on the spot. And this isn't just for Christmas – we'll keep the tests going next year."
About 16,000 people died with coronavirus in English and Welsh care homes between late March and October. It is estimated that excess deaths in retirement communities are as high as 25,500.
The virus spread is thought to have been accelerated by shortages of PPE, visitors and carers bringing it in and residents not being tested before they were discharged from hospital.
Hammersmith and Fulham said it is now working towards giving out 20,000 swabs a week with care home workers regularly being tested.
Council leader Stephen Cowan said: "With the continued high infection rates, we will do everything possible to protect people by stepping up the fight against Covid-19 with local targeted testing allied with robust track and tracing.
"We can limit the dreadful effects of this pandemic if we all pull together."
Rachael Burford – Local Democracy Reporter

November 22, 2020