Get involved online every Tuesday and give your views on the New Normal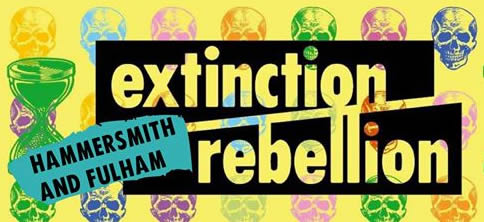 The weekly meetings of Extinction Rebellion - Hammersmith & Fulham have gone virtual, due to the coronavirus outbreak.

Local people are invited to join the rebellion, get involved, share ideas and discuss local actions every Tuesday, including 31 March, from 7.30pm till 10pm.
The meetings are being conducted using video conferencing app Zoom.
Find out more about joining the discussion at Extinction Rebellion Hammersmith & Fulham or join the chat on WhatsApp.
XRHF say that in early June, they were due to be holding –
in partnership with the Lyric Theatre – a festival of ideas, called Imagine2030. Because of COVID-19, it will now happen later in the year.

XRHF add: " Imagine2030 will showcase and explore ways of achieving a zero carbon Hammersmith & Fulham by 2030 (in line with the council's pledge), from housing to transport to green spaces. The New Normal must be zero carbon. And let the New Normal be a distinct improvement on the old one: not just cleaner and greener, but healthier, kinder, less greedy, less wasteful – happier.
" So let's imagine the New Normal. What will your street, your neighbourhood, your borough, look like? What lessons can we learn from the COVID-19 experience?
" We are using #NEWNORMAL to talk about these things. Let us know what you think – info@xrhf.earth."
National organisation Extinction Rebellion UK meanwhile has responded to the coronavirus outbreak by offering AloneTogether, which it calls a Regenerative Rebellion built around personal and community wellbeing and resilience, mutual aid, care and outreach.
As part of that, it is launching a new Handbook online with a growing range of regenerative resources for personal and community resilience, plus 1-2-1 support options, wellbeing tips, a programme of online events and ways to share and connect.
Doctors for Extinction Rebellion said in a statement: " We all have a responsibility to do what we can to reduce the spread of this disease and to support ourselves and our communities through physical isolation and distancing. Whilst quarantine and isolation measures are incredibly important for all of our sakes, we urge people to stay connected through online meetings, chats, games and exercise in nature.
" Look after yourself, your friends, family, elders and those around you and follow current medical guidelines. We know you care and want to continue mobilising around the climate and ecological emergency; that momentum within the movement has been growing and the desire to look after planetary health in the global community is strongly felt."
Debbie Winton from Extinction Rebellion UK's Regenerative Cultures said: " We have seen the immediate response of people to this crisis, assisting one another, engaging in mutual aid and community building initiatives.
" We would like to support and encourage efforts as we move forward, sharing resources to help people look after themselves and others. Although in isolation, we will face this together."
March 24, 2020