Party now has 35 councillors alongside 11 Conservatives
The Labour administration in Hammersmith & Fulham has been given a major vote of confidence by residents in yesterday's Local Council Election, winning 35 out of a total of 46 seats across the borough's 16 wards.
The remaining 11 were won by the Conservatives.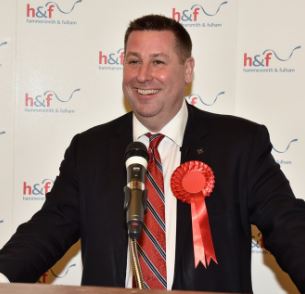 Council Leader Stephen Cowan thanked all the candidates for taking part.
This is a big increase in Labour's majority within the council, compared with the previous local election in 2014 when the result was 26 Labour councillors and 20 Tories.

Overall turnout was 39% - up 1% on the previous Local Council Election in May 2014.
We will bring you reactions and further analysis later on Friday.
Ward results:
Ward
Status
Elected councillors
Declared at
Turnout
Addison
Declared

Sue FENNIMORE (Lab)
Adam Peter Alexander CONNELL (Lab)
Rachel Alice LEIGHTON (Lab)

3.20
41.7%
Askew
Declared
Lisa Faith HOMAN (Lab)
Rory John VAUGHAN (Lab)
Rown Morgan REE (Lab)
3.33
37.1%
Avonmore & Brook Green
Declared
Rebecca Maria HARVEY (Lab)
David MORTON (Lab)
Fiona Katherine SMITH (Lab)
3.36
42.5%
College Park & Old Oak
Declared
Wesley Stephen HARCOURT (Lab)
Alexandra SANDERSON (Lab)
2,39
33%
Fulham Broadway
Declared
Ben COLEMAN (Lab)
Alan Colin DE'ATH (Lab)
Sharon HOLDER (Lab)
4.05
37.7%
Fulham Reach
Declared
Christabel Laura COOPER (Lab)
Iain Graeme CASSIDY (Lab)
Guy Wyndham VINCENT (Lab)
4.02
41.4%
Hammersmith Broadway
Delared
Stephen Edward COWAN (Lab)
PJ MURPHY (Lab)
Patricia Catherine Mary QUIGLEY (Lab
4.25
38.8%
Munster
Declared
Adronie ALFORD (Con)
Alex KARMEL (Con)
Dominic STANTON (Con)
3.09
34.8%
North End
Declared
Daryl Jane Eleanor BROWN (Lab)
Larry Brenden CULHANE (Lab)
Zarar QAYYUM (Lab)
3.05
37.9%
Palace Riverside
Declared
Amanda LLOYD-HARRIS (Con)
Donald JOHNSON (Con)
2.41
47%
Parsons Green & Walham
Declared
Frances STAINTON (Con)
Mark LOVEDAY (Con)
Matt THORLEY (Con)
4.10
38.2%
Ravenscourt Park
Declared
Jonathan Nicholas Benedict CALEB-LANDY (Lab)
Bora KWON (Lab)
Asif SIDDIQUE (Lab)
3.11
50.4%
Sands End
Declared
Lucy Caroline RICHARDSON (Lab)
Ann Pauline May ROSENBERG (Lab)
Matt UBEROI (Lab)
2.47
39.4%
Shepherd's Bush Green
Declared
Andrew Malcolm JONES (Lab)
Natalia PEREZ (Lab)
Mervy Chinyere UMEH (Lab)
4.07
35.3%
Town
Declared
Victoria BROCKLEBANK-FOWLER (Con)
Andrew BROWN (Con)
Belinda DONOVAN (Con)
2.42
41.7%
Wormholt & White City
Declared
Colin AHERNE (Lab)
Sue MACMILLAN (Lab)
Max SCHMID (Lab)
4.29
35.1%
You can find a list of those councillors elected in the previous election in 2014 here and further information about the wards in Hammersmith & Fulham here.
May 4, 2018