For essential repairs ahead of major refurbishment now set for late 2018
Hammersmith and Fulham Council has announced that Hammersmith Bridge will be closed to traffic during February half term while essential repair works take place.
The council says these works are an interim measure to ensure the iconic, 130 year-old bridge remains in use ahead of a major refurbishment scheduled for late 2018.
The repairs, which will be to replace the bridge decking, will mean the bridge is closed to traffic from Saturday 11 February until the early hours of Monday 20 February. However it will remain open to cyclists and pedestrians.
Hammersmith Bridge is presently operating under severe weight restrictions with only one bus in each direction permitted on the bridge at any one time. This essential maintenance work is crucial to ensuring this very old bridge can continue to operate effectively in the future.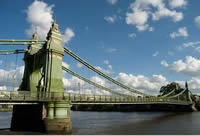 The council offers the following advice to road users:

Motorists will be diverted via Chiswick Bridge and Putney Bridge. Both footways will remain open to pedestrians and cyclists, who will have to dismount to cross. Please take care when crossing as it may be busier than usual.

The following bus services will terminate before the bridge: 33, 209, 283, 419, 485. Passengers can walk across the bridge to resume their journeys. For those less mobile, the 72 bus service will be diverted via Chiswick.

You can get the latest bus information from TfL Buses, or follow @TfLBusAlerts on Twitter.

To comment on the repair works, contact H&F Council's transport team at bridgeproject@lbhf.gov.uk.

To find out more about the full refurbishment, visit the H&F Council's Hammersmith Bridge . page.

The announcement follows a report in November that the planned major refurbishment was being postponed due to a shortfall in funding. According to the BBC, TfL agreed to provide £20million to the cost of repairing and reinforcing the bridge which was built in 1887. However, at that time H&F said that due to a funding shortfall of £5.3million the work could not proceed according to the original schedule

At the time the BBC's Gareth Furby said he had seen correspondence between H&F Council and TfL in which a council officer stated: "It is possible that the excessive vibration caused by buses is causing the nuts and bolts to become loose. Soon this bridge will dismantle on its own!"

Council leader Stephen Cowan told the BBC: "There's no way that this council is going to spend anything like that money, the majority of this issue is the responsibility of TfL and we will work with them to make sure the bridge is fit for public purpose."

The council has not yet confirmed how the refurbishment is to be funded or how long it will take to complete. However, in the Frequently Asked Questions section of its Hammersmith Bridge page it says:

In recent months, we have undertaken in-depth surveys of the bridge structure which have helped inform exactly what work will need to be done for both the interim repairs and the full refurbishment.

We will continue to monitor the bridge from the interim repairs until the full refurbishment starts.

January 26, 2017