At St Paul's Gardens where Normandy Landings were planned by General Montgomery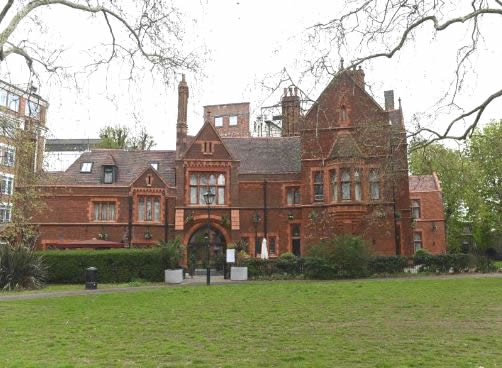 Did you know that D-Day - the turning point in the Second World War – was planned in Hammersmith?
Operation Overlord, planned by Field Marshall Bernard Montgomery was finalised in the former St Paul's School in Hammersmith Road.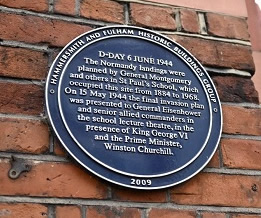 A plaque on the site, now known as St Paul's Gardens, explains: "The Normandy landings were planned by General Montgomery and others in St Paul's School, which occupied this site from 1884 to 1968. On 16 May 1944 the final invasion plan was presented to General Eisenhower and senior allied commanders in the school lecture theatre, in the presence of King George V1 and the Prime Minister, Winston Churchill."
The D-Day invasion was one of the most complex military operations ever undertaken, with 160,000 troops crossing the English Channel in a day, supported by hundreds of warships and planes.
A special event is now being planned to mark the 75th anniversary, on 6 June 1944 of the beach landings which led to the retaking of continental Europe by the Allied forces.
The only building surviving from those day is the old school's High House (now the St Paul's Hotel), the front garden (today known as St Paul's Gardens) and the surrounding walls, pictured above.
But on Saturday 8 June there will be a commemorative anniversary gathering in the gardens with military vehicles, wartime music, food and drink, a children's obstacle course and fun for all the family.
"This is an opportunity to commemorate one of the most significant moments in local history, when D-Day and the liberation of Europe in the Second World War was planned by the Allied leaders in Hammersmith," says Cllr Alan De'Ath, H&F's representative for armed forces community.
Schools in Hammersmith & Fulham are being invited to enter paintings, drawings and models to a competition on the theme What happened on D-Day?
The H&F schools art competition has three age groups, 9-11, 12-13 and 14-16 with a maximum entry of three in each age group per school. Entries can be paintings, drawings or models, but should be no larger than A3 in size.
They should be delivered to the marquee in the gardens behind St Paul's Hotel from 8-10am on the day, and collected from 4-5pm on the same day. Entries can't be stored afterwards. All entries are at owners' risk.
Judging will take place during the party, with winning entries receiving £250 for their school, and being displayed in the hotel.
The D-Day commemorative event on Saturday 8 June is at St Paul's Garden, Hammersmith Road, W14 0QL, from 11am-5pm. Everyone is welcome.
You can read more about the history of St Paul's Gardens on this historical board.
May 9, 2019