Clements of Foxglove Street jailed for 14 years for attacks with hunting knife
Joshua Clements, 18 of Foxglove Street appeared at the Old Bailey today Friday, 1 September where he was sentenced to 14 years' imprisonment and placed on extended licence for five years.
Clements had previously pleaded guilty to two counts of causing grievous bodily harm with intent; one count of carrying an offensive weapon; two counts of handling stolen goods; and one count of possession with intent to supply (class A).
The Met Police say that on the evening of Tuesday, 19 July 2016, a large peaceful gathering of people enjoying the hot weather in Hyde Park descended into a period of serious disorder as a result of the actions of a violent few.

Clements attacked two men with a hunting knife in two separate incidents, causing both victims serious injuries.
One of the attacks took place within the crowd in Hyde Park with the victim sustaining a serious stab wound to the abdomen; the other assault happened in the middle of the road near to Cumberland Gate as the crowd dispersed from the park.
In this incident, Clements stabbed his victim in the chest and both arms. Both victims sustained serious injuries but have since recovered.
Following the incidents, an investigation was launched by detectives from the Met's Homicide and Major Crime Command.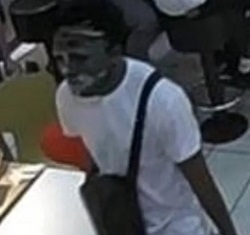 Clements had attempted to evade detection by wearing a camouflage patterned face mask when he carried out the offences. However, officers traced his movements via CCTV and were able to see his face when he lifted his mask as he finally made off from the area.
This image was circulated amongst police officers and Clements was recognised by a police constable attached to a west London gangs unit. He was arrested on 27 July 2016.
A search of Clements' home address recovered a significant quantity of drugs, stolen property from two robberies committed in Hyde Park on the evening of the disorder and a large hunting knife. The knife was subsequently forensically linked by blood to both of the serious assaults.
Faced with overwhelming evidence Clements pleaded guilty to the charges laid.
Detective Inspector Dave Bolton from the Homicide and Major Crime Command, said: "Thousands of people had gathered in Hyde Park to enjoy a hot summer's afternoon last year, but unfortunately Joshua Clements was intent on criminality.
"He is a violent individual who targeted two innocent people for no reason, thinking he could evade justice in the crowd. His victims sustained very serious injuries and I am pleased that despite his attempts to delay the judicial process, he has now received this substantial sentence."
September 4, 2017