James Shears of Chelsea arrested as result of police appeal
A man from Chelsea has been arrested and charged with indecent exposure following an incident on Field Road, West Kensington earlier this month.
He was identified as a direct result of an appeal made to the media on Saturday 9 January.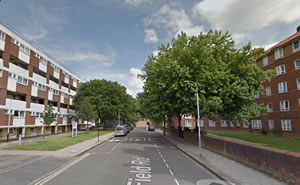 Field Road (Picture: Google Street View)
James Shears, aged 35 of Chelsea, SW3 was charged on Sunday, 10 January with engaging in sexual activity in the presence of a child.
He will appear in custody at Hammersmith Magistrates' Court today, Monday, 11 January.
On Tuesday, 5 January at approximately 4pm, a man entered a lift in a block of flats on Field Road near the Queen's Club, where he indecently exposed himself to a female and carried out a sexual act on himself.

January 11, 2016