Second successful show from the Angel Theatre Company
After the success of its production Eavesdropping last summer, Angel Theatre Company is back at Barons Court Theatre with a follow-up, More Eavesdropping.
Using the same concept as its predecessor, the show consists of a variety of scenes, each varying in length. Unlike most plays which are either scripted or devised, More Eavesdropping is unique in that it is neither.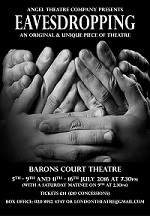 The piece has been created by the company's actors who spent several weeks covertly recording real people engaged in genuine conversations. These recordings are then scripted, explored and reinterpreted through rehearsal to find their dramatic potential.
More Eavesdropping, suitable for ages 15 and above is on till 11 February, at 7.30pm nightly with a matinee on Saturday 4 February at 2.30pm
TICKETS: £16, £12 concessions.
Tickets can be booked direct from Angel Theatre Company through their website or from Barons Court Theatre.
EMAIL BOOKINGS: Send details of performance and number of tickets required to londontheatre@gmail.com. Then pay for them, in cash, when you come to the performance.
Barons Court Theatre is at the Curtains Up pub in Comeragh Road, W14.
February 3, 2017