What's On in July at Barons Court Theatre
---
'Eavesdropping' promises a unique, entertaining and emotional journey
From July 5 - 16, Angel Theatre Company presents Eavesdropping at Barons Court Theatre.
Eavesdropping is an original piece of theatre conceptualised and directed by John Patterson.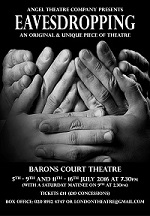 The production consists of a variety of scenes, each varying in length. Most plays are either scripted or devised, but Eavesdropping sits somewhere between the two!
The piece is created by the company of actors, spending several weeks covertly recording real people, engaged in genuine conversations. These recordings are then scripted and explored through rehearsal to find their dramatic potential.

Each vignette is a miniature work of art in itself, but when presented as part of a sequence,
the piece promises to takeits audience on a unique, entertaining, emotional and amusing journey.

PERFORMANCES: Tue 5 July - Sat 9 July & Mon 11 July - Sat 16 July (7.30 p.m.) Additional Matinee: Sat 9 July (2.30 p.m.)

TICKETS: £14 (£10 Concessions)
BOX OFFICE: 020 8932 4747

EMAIL BOOKINGS: Send details of performance and number of tickets required to londontheatre@gmail.com.

Then pay for them, in cash, when you come to the performance.

Barons Court Theatre is at the Curtain's Up pub in Comeragh Road, W14.
June 24, 2016