RSPCA appeals for information to find owner of poorly elderly dog found collapsed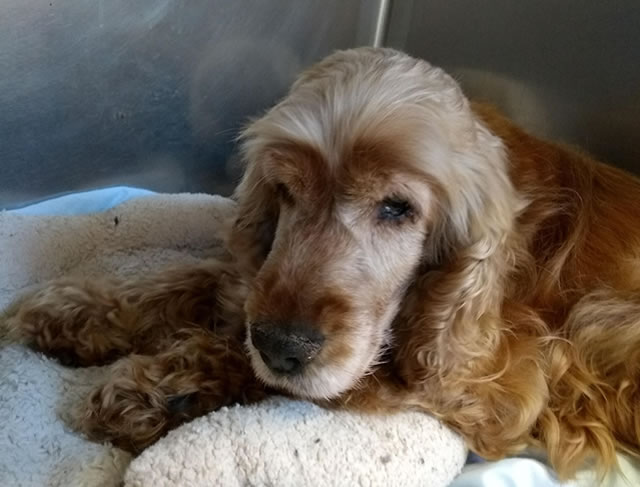 Gracie at the RSPCA Animal Hospital Putney

Little Gracie, an elderly cocker spaniel was taken to RSPCA Putney Animal Hospital where she is receiving emergency treatment having been found collapsed in a park in Bushy Park London on Sunday 24 of June.
Gracie, named by the staff, was found by a kind-hearted member of the public who took her to the RSPCA Putney Animal Hospital.
She was collapsed and suffering from heart failure and had a very weak pulse. Vets at the hospital have been working to keep her comfortable while we try to find her owner and having been treating her with oxygen and IV fluid and oral heart medication to help remove the build up of fluid on her lungs.
She is still extremely weak, but is slowly responding to her treatment. However she does have an underlying heart condition which could have been exacerbated as a result of Sunday's hot weather. The vets will continue to keep her comfortable, but she is still very poorly. She is thought to be 12 years old and has limited sight and hearing.
The RSPCA is appealing to find the owner of Gracie and would urge anyone who may recognise her or who has any information to contact the RSPCA inspector appeal line on 0300 123 8018.
A spokesperson for the hospital said: "Poor little Gracie, she really is the sweetest little dog, but she is very, very poorly. Sadly she was not microchipped, so we have not been able to find her owner as yet, which is why we are appealing to anyone with information to contact us.
"We are not sure how she ended up in the park on her own, but we are grateful to the member of the public who showed such care and brought her into us. We would also like to thank everyone who has been in touch asking for an update. We are keeping her comfortable, and staff absolutely adore her. She is still very poorly and we are concerned by her heart condition. She's receiving lots and love and attention by staff who she has already won over their hearts."
The RSPCA would like to thank the public for their kind offers of new homes for Gracie, but she is currently not available for rehoming.

June 26, 2018