Groups campaigning in Downing Street asking Theresa May to block expansion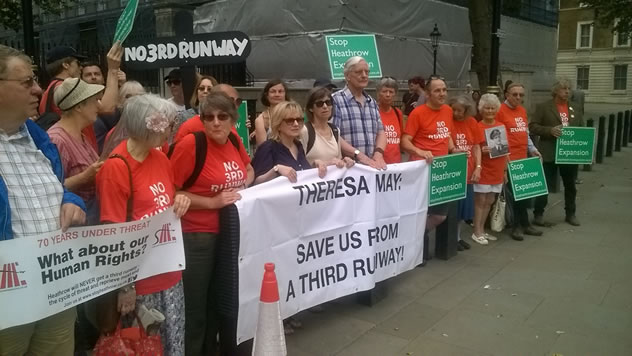 Over 50 campaigners from Ealing, Richmond, Chiswick, Hounslow, Teddington, Stockwell and the Heathrow villages stood outside Downing Street this morning to remind Theresa May, as she left Downing Street to attend her first Prime Minister's Question Time, that she had the power to stop a third runway at Heathrow.
Weeks before a decision is made on a new runway for London and the South East, the campaigners gathered with a large banner "Theresa May, save us from a third runway!
The event was organized jointly by Stop Heathrow Expansion (representing the Heathrow villages) and the long-standing campaign group HACAN.
HACAN chair John Stewart said, "We know from her past statements that Theresa May is no fan of Heathrow expansion. We are gathering to remind her that she now has the power to stop it."
The group said that archives from Parliamentary debates show that May has consistently expressed concern about night flights and had expressed her concern about a third runway
HACAN chair John Stewart said, "There must now be a real question mark over a third runway. Heathrow will argue that its proposals now offer more to residents than the 2009 plan but these archives make very clear that we have a Prime Minister who has expressed strong opposition to Heathrow expansion."
The former Mayoral candidate and anti-expansion campaigner Tory MP Zac Goldsmith today declared that Heathrow's plans for a third runway contained a £500 million "gap" that could be passed on to taxpayers.
He said that was the cost of relocating a giant incinerator taking waste from local hospitals, military and industrial areas in the vicinity-the current waste treatment plant is on the current site for the proposed runway.
Mr Goldsmith urged Theresa May to block Heathrow expansion until a new site for the plant was found and the full cost of relocation covered by the airport.
Transport Secretary Chris Grayling has promised a decision on a new runway for the South-East soon.

30 June 2016