No wonder it came in Open Table's Top 10 London restaurants

Emile's has recently been voted as one of London's top restaurants by OpenTable in the company of Ottolenghi in Islington.
I opted for the most amazing starter I have had for quite some time - salmon rolled in basil and then filo pastry and then quickly cooked on the plonchette (which Emil assured me was a posh name for an expensive griddle!) resulting in a crisp pastry with juicy basil and succulent raw salmon. Tastebuds were amazed and it is very pretty to the eye, with vibrant colours and micro herbs and keta (salmon caviar).
| | |
| --- | --- |
| | |
My friend opted for the house specialty of cheese souffle - always on the menu but changing cheeses each month - September was a mature cheddar from Croxton Manor with parsley with a white wine and grain mustard beurre. The souffle was just the right 'firmness - soft to the touch, firm on the outside and when cut into a delicious gooey centre oozed which needed some bread to make sure it was all eaten...

Ignoring all wine rules re colour and dishes we enjoyed a Tuscan red 2013 Duemani 'Cifra' Cabernet Franc from
Luca d'Attoma, £37.00 which is on Emile's Fine Wine menu. The wine is made from certified organic and biodynamic grapes, and is light to medium bodied red from the Costa Toscana IGT region (coastal Tuscany).
Emile's offer two wine lists, wines on the Fine Wine menu range from £30 to £56 (excluding champagne) whereas on the regular wine list prices start at £17.50 and the top price is £37 (excluding champagnes).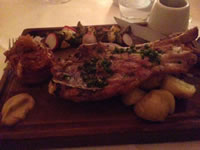 Main course time and my grilled veal cutlet, was served with artichoke hearts and roast cauliflower fleurets, with a smoked crab apple relish and gremolata on a wooden platter. The veal was rose not milky white offering a rich flavour and the delicious combination of tender flesh and crispy fat - yum!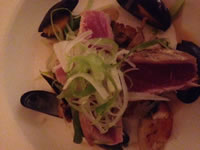 The other side of the table had the seared tuna with crab claw and mussels, served on a coconut rice cake, with wild mushrooms, spring onion and a seafood vinaigrette. The tuna was beautifully presented - how can anyone want tuna cooked through!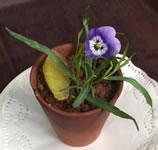 Desserts beckoned - something I usually avoid but that night I was intrigued by the flower pot that passed by to another table earlier in the evening. The 'soil' is chocolate shortbread crumbs covering the very delicate flavours of the tarragon and mandarin sitting on a chocolate shortbread biscuit - all inside a terracota flower pot with a sprig of tarragon and a sliver of mandarin.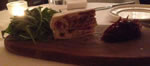 The cheese eater across the table chose the Brie stuffed with bresaola, walnuts and herbs that was served with red onion chutney and rocket. It is slightly odd looking and possibly she had to be cajoled into trying this unusual cheese 'pudding' but worth trying and my friend said that she would eat this again and would be happy having it before or after the main course ie as a starter or instead of the main.

The menu changes this weekend as October brings unseasonably warm weather so I am sorry if some of the above is not available but I am sure what replaces the dishes will not disappoint!

Emile's December menu is now also available for those booking office parties and family get together's for the festive season.

Sandi Bloomfield
October 2, 2016