Tories Manage to Hang on in Wandsworth
---
Labour gain seats but fall just short of taking control of Council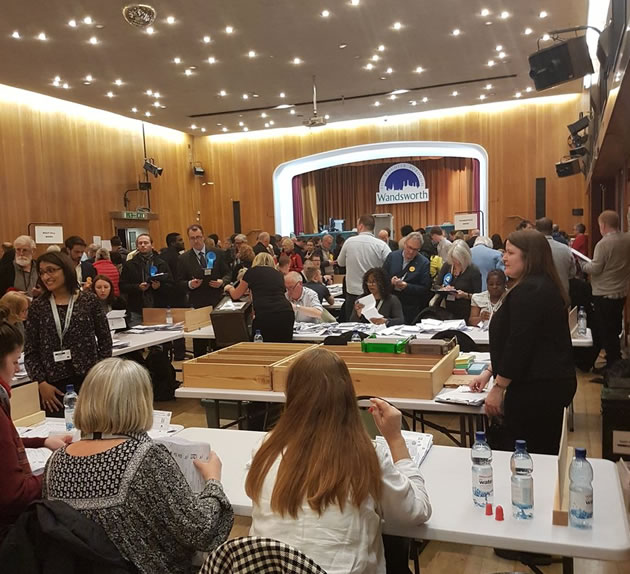 The votes are counted. Picture: Wandsworth Council

The Conservatives have managed to retain control of Wandsworth Council despite losing a number of seats in the local elections. The number of councillors the party have has been reduced from 41 to 33 with Labour taking 26 and one independent being elected. This is the closest they have come to defeat since 1978.
At the close of polling at 10pm the early indications were that turnout had increased compared with 2014. Results elsewhere were giving the Conservatives encouragement and Putney MP Justine Greening talked about last year's General Election representing 'peak-Corbyn.' London Mayor Sadiq Khan who was a Councillor in the borough for many years seemed to backtrack on previous predictions of a Labour victory and talked in terms of gaining seats in the borough rather than gaining control. He said that Labour had canvassed and delivered leaflets in areas they had never done so before.
Labour hopes were raised early on as the first ward results were declared just before 3am. They managed to gain all three seats in the previously split wards in Queenstown Road and Bedford. In the case of Queenstown Road the swing to Labour was large enough for them to believe a shock victory might be on the cards. They also gained some encouragement from the news that a recount was taking place in St Mary's Park ward which was a key target.
However, these hopes were quickly dashed just after 3am when the result from the key Southfields ward was announced with the Conservatives comfortably retaining all three seats. Labour needed to take at least two in this ward to have any chance of winning the Council. It was around this time that Sadiq Khan chose to leave the counting suggesting that he had recognised the loss in Southfields was decisive.
It wasn't, however, a comfortable night for the Conservatives and any complacency that a win was guaranteed disappeared with the result from the West Hill ward which saw independent candidate Malcolm Grimston gain over 4,000 votes with the Labour party taking the two other seats in the ward.
Cllr Grimston tweeted, "Seriously humbled to get 4002 votes as an Independent - biggest vote of the night. I will try to live up to my Ward's hopes for me and will hold both Parties to account when they deserve it (and support them similarly)". The other two seats were won by Labour's Angela Ireland and Peter Carpenter.

After 24 hours to reflect on his result Cllr Grimston told this website: ""I hope the two main parties will realise that residents are fed up of being ignored for three and a bit years and then being swamped with visits and literature when their votes are required. That the largest vote in Wandsworth Council's history did not go to Labour or Conservative ought to make them realise that there is more to serving the local community than a two month flashy campaign."
Although at this time Labour was notionally ahead of the Conservatives with 23 seats to 21 the remaining wards to declare were all Tory held and unlikely to be won by Labour given the swing they had achieved. A number of recounts were being held but the Conservatives told reporters they were confident about the outcome.
Council leader Ravi Govindia said he attributed the result to a focus on local not national issues.

As expected, the Conservatives lost seats elsewhere in London and the Lib Dems managed to gain control of Richmond on Thames. On the other hand Labour failed to take Westminster, another borough they had hoped to win.
Party of Councillors in Wandsworth Borough
Ward
Result in 2014
Result in 2018
Balham
Bedford
Earlsfield
East Putney
Fairfield
Furzedown
Graveney
Latchmere
Nightingale
Northcote
Queenstown
Roehampton and Putney Heath
Shaftesbury
Southfields
St Mary's Park
Thamesfield
Tooting
Wandsworth Common
West Hill
West Putney
Blue = Conservative. Red = Labour. White = Independent
West Hill Ward

All change - 1 Independent & 2 Labour
Name

Party
Votes
Malcolm Charles Grimston
Independent

4,002

Angela Mary Ireland
Labour

1,850

Peter Jon Carpenter
Labour

1,687

All the above elected as Councillors
Alison Dawne Rodwell
Conservative

1,626

Nobuco Hara
Labour

1,606

Salvatore Murtas
Conservative

1,363

Robert Daniel Hughes
Conservative

1,265

Terence Gibbin Brown
Green

448

Penny Bianca Staniaszek
Green

364

Eleanor Mary Doody
Liberal Democrats

264

Andrew Charles Hinton
Liberal Democrats

250

Linda Maria Joy
Liberal Democrats

249

Electorate: 11,192
Ballot Papers Issued: 6,000
Turnout: 51.1%
Thamesfield Ward
Conservative Hold
Candidate
Party
Votes

Rosemary Clare

Torrington
Conservative
2697

Michael John

Ryder

Conservative
2618
John Locker
Conservative
2492
All the above elected as Councillors
Warren Sally Anne
Labour
1,103
GIBBONS, Stephen
Labour
1,019
LOCKE, Christopher Edwin
Labour
1,011
BENTON Paul Hans
Liberal Democrats
975
MERCER Ryan Jonathan
Liberal Democrats
929
KEEP John James
Liberal Democrats
877
McCANN Diana Mary
Green Party
739
CARTER, Richard Francis
Green Party
468
PASOLA Anna
Green Party
430
Electorate: 12,178
Ballot Papers Issued: 5,228
Turnout: 43.1%
Southfields Ward

Conservative Hold
Name

Party
Votes
Kim Caddy
Conservative

2,981

Guy Derek Ralph Humphries
Conservative

2,912

Terence Michael Walsh
Conservative

2,888

Sheila Mary Boswell
Labour

2,338

Guy David Price Griffith
Labour

2,155

Sam Alex Nicholas
Labour

2,137

Susan Jane Wixley
Liberal Democrats

716

Pappathi Durai-Bates
Liberal Democrats

696

Duncan James Anton Lyons
Liberal Democrats

643

Benjamin Joseph Fletcher
Green

462

Lauren Jayne Harris
Green

402

Nicola Joanna Blair
Renew

94

Patricia Mary Ward
UKIP

80

Electorate: 12,950
Ballot Papers Issued: 6,315
Turnout:
48.9%
Roehampton and Putney Heath Ward

Labour Hold
Candidate
Party
Votes

Jeremy Noel

Ambache

Labour
1806

Susan Elizabeth

McKinney

Labour
1787

Marianne Claire Halliday

Gilbert

Labour
1723
All the above elected as Councillors
Mohammad Masood
Conservative
1,249
Kyle Knight
Conservative
1,231
Dan Francis Lynch
Conservative
1,197
Fergal Joseph McEntee
Green Party
319
Helen Margaret Speedy
Liberal Democrats
250
Hugh Palmer Brown
Liberal Democrats
226
Benjamin Gresham Speedy
Liberal Democrats
208
Electorate: 9,749
Ballot Papers Issued: 3,515
Turnout:
36.1 %
East Putney Ward

Conservative Hold
Candidate
Party
Votes

Sarah Jane Louise

Binder

Conservative
2,627

Luigi George

Crivelli

Conservative
2,503

Ravindra Pragji [Ravi]

Govindia

Conservative
2,418
All the above elected as Councillors
Finna Jane Ayres
Labour
1,296
Eileen Ann Flanagan
Labour
1,232
Hugh Rhys Samuel
Labour
1,098
Jose Ignacio Rodriguez Andres
Liberal Democrats
795
John Morris Williams
Liberal Democrats
743
Timothy Guyse Williams
Liberal Democrats
633
Anita Claire Gray
Green Party
389
Jonathan Stuart Croall
Green Party
324
Richard John Morris
Green Party
240
Electorate: 11,907
Ballot Papers Issued: 4,897
Turnout: 41.1%
West Putney
Conservative Hold
Candidate
Party
Votes

Jane COOPER

Conservative

2684

Ian Peter LEWER

Conservative

2604

Stephanie (Steffi) Jayne SUTTERS

Conservative

2584

All the above elected as Councillors
Yasin Inan

Labour

1,419

James Alexander [Jim] McKinney

Labour

1,405

Susan Olech

Labour

1,304

Helen Maria Compson
Liberal Democrats
580
Charles Edward Gillbe
Liberal Democrats
458
Sharon Ruth Davis
Liberal Democrats
419
Emma Josephine Killick
Green Party
369
Jennifer Pang
Green Party
342
Christopher Edward Poole
Green Party
266
Electorate: 11,237
Ballot Papers Issued: 4,931
Turnout: 43.97%
May 5, 2018