Try The Colton Arms' Food at Half Price this Weekend
---
Ahead of refurbished pub's official reopening on Monday 13 Ferbruary
However, local people are being invited to visit the refurbished pub and sample its new menu at a bargain price during its "soft launch" from 9 - 12 February.
Opening from 6pm on 9 February, from 12pm till 10pm on 10 and 11 and 12pm till 8pm on Sunday 12 February, the pub is offering 50% off food, including its All Day Menu currently featuring hearty British winter favourites such as Wild Boar Sausage, Lentils and Champ Mash, Crispy Belly, Root Vegetables and Apple Sauce and Salmon, Lentils, Spinach and Watercress, and Smalls, such as Sausage Rolls, Courgette Fritter and Fresh Bread and Hummus.
There is also a choice of calorific but tempting desserts, including Salted Caramel Fondant and Vanilla Ice Cream, Apple and Rhubarb Crumble with Custard and Pear and Almond Tart with Clotted Cream.
The pub, part of the Hippo Inns chain which also includes The Lillie Langtry in West Brompton, has been a family affair, run by Dorothy and Norman, together with their son Jonathon for 50 years.
After being relatively untouched for all these years, The Colton was in need of a little TLC. Now it has been lovingly restored, with the aim of preserving its character and country pub charm.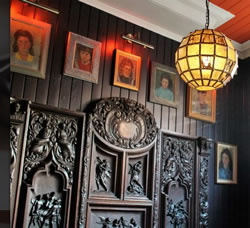 The pub describes itself as " a village local in the heart of West London, with its brass bar tops, wood panelling and open fires. It's warming in winter and convivial in summer. It's the ultimate hideaway for a summer drink in the seclusion of the walled garden or cosying down by an open fire. Your secret unspoilt little corner of London."
Find out more at The Colton Arms website.
February 3, 2017