Mystery remains as Trust marks 30 years since Fulham estate agent disappeared
The father of Fulham estate agent Suzy Lamplugh has told the BBC he has little hope of ever finding out what happened to his daughter, 30 years after she disappeared.
Paul Lamplugh, now 85 and a grandfather of seven who still lives in the family home in East Sheen where Suzy, her two sisters and brother were born and brought up, said: " I don't have very much hope that I will find out what happened."
Mr Lamplugh, whose wife Diana died in 2011, added: " I miss Suzy more now... I think the older I get I miss her.
" I particularly remember a conversation when Diana was chiding her for doing too much and she said 'Come on mum, life is for living'.
"Suzy did know how to live life fully but no-one taught her how to be safe."
The Suzy Lamplugh Trust was set up by her parents shortly after Suzy disappeared after making an appointment to meet a client called "Mr Kipper" on July 28, 1968.
Since then, the Trust has pioneered personal safety as a life skill and a public policy priority. You can find out more about its work here.
The charity says milestones achieved include: campaigning for private hire vehicle licensing in London, being instrumental in bringing about the Protection from Harassment Act 1997 which dealt with stalkers, producing an award winning video about safe independence for young people and setting up the National Stalking Helpline. This was the world's first specialist service dedicated to supporting victims of stalking. The Trust has also delivered personal safety training to over 50,000 people since its inception.

The Trust says:" A lot has been achieved, however there is still much more we want to achieve. On our 30th anniversary we are shining a light on violence and aggression in the workplace and personal safety of young people, two of the areas that particularly inspired Paul and Diana Lamplugh to start the Trust in Suzy's name.
" Latest figures from 2014/15 show that 142 people were killed at work and 76,000 injuries to employees were reported. Mental health issues including stress, anxiety and depression, gave rise to the most working days lost and the most common physical or psychosocial risk cited by two thirds of workplaces was 'dealing with difficult customers, patients and pupils.'
" This was placed higher than risks such as lifting, chemical substances, slips, trips or falls and machinery.
" We cannot afford to be complacent about personal safety in the workplace. The Trust continues to work to improve safety for all workers through education, support and campaigning."
To mark this 30th anniversary, it is aiming to raise £30,000 for its Right to Be Safe Appeal. The appeal has already raised almost £5,000 and you can find out more and make a donation on its Virgin Moneygiving page.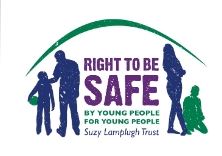 July 29, 2016