Discussions about application stretched over five hours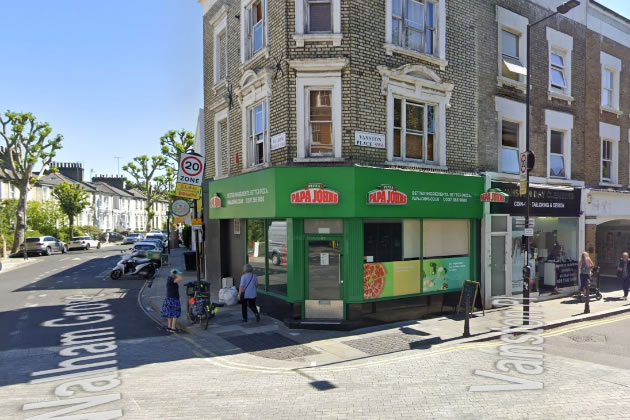 Papa Johns on Walham Grove. Picture: Google Streetview
September 29, 2023
Pizza joint Papa Johns lost a bid to stay open till 1am during a marathon five-hour meeting with residents.
The pizza chain promised to shut its Walham Grove shop to customers from 11pm and run deliveries until close but it wasn't enough to ease the concerns about noise and anti-social behaviour.
Some 21 residents joined Tuesday night's (26 September) lengthy virtual licensing meeting held by Hammersmith and Fulham Council that tested concentration spans.
At one point, one resident could be seen appearing to swing his arms like a conductor before interrupting to ask when the meeting would finish because he had to "really sign off on some [stuff]".
One woman was seen clutching her hair when the applicant's lawyer, Walaiti Rathore, was given 57 minutes to respond to allegations almost four hours into the licensing meeting.
It was claimed 50 residents opposed Papa Johns' application which initially wanted to run 24 hours a day, while those who attended wasted no time in expressing their concerns about loud moped drivers and trash.
Residents claimed they had lost sleep and were fed up with Papa Johns' pizza boxes ending up in their front gardens. They also claimed data protection laws were being broken by delivery dockets with customers' personal details being left scattered along the gutter.
One resident said, "This is a residential street. We do not want disturbance all night… We already have enough mopeds. We just cannot cope with anymore."
Martin Band said, "We are neither the suppliers nor in most cases the buyers in these transactions and we're the people experiencing collateral damage."
Another said delivery drivers servicing take-aways along the road do not look when they're leaving.
He said, "If someone wants to run an all-night business, it should be done from somewhere like a trading estate, not a residential and conservation area. It is inappropriate."
The mum of a teenage daughter described how it is "extremely intimidating" to walk past drivers outside Papa Johns.
She said, "I have a soon-to-be 16 year old. There are other young females on the road. Even myself, I don't particularly like it as their mum. It is a particularly intimidating group of men that are looking you up and down."
Papa Johns regional operations manager Richard Campbell said the shop was under new management since a take-over in June and was keen to engage residents more.
He said, "We are working tirelessly to be the best business we can be. There is a long road ahead but we're continuing to improve the business, the processes and the way we do things."
Mr Rathore claimed some of the allegations were "unsubstantiated" or "misleading" and highlighted the number of take-away in the area whose drivers also use Walham Grove. He also claimed the police have not received a single complaint from residents about its drivers.
He said, "We have a proven track record of implementing national plans, and that's what we're going to do. [Papa Johns] has an excellent working relationship with the relevant authorities."
But councillors disagreed and shared concerns about the way Papa Johns monitors delivery drivers and if the company had improved its operation since a similar application was rejected in February.
Councillor Florian Chevoppe-Verdier said the company had months to go "the extra mile" with residents while councillor Ben Coleman accused Papa Johns of amending the terms to curry favour with the committee.
He said, "I think we again have a situation where we wish Papa Johns to reassure us all before it puts in an application for extended hours, that it's capable of operating the place better than at the moment and until it shows us and demonstrates to us then we are back where we were in February and I ask the committee to reject this application."
Mr Rathore said this application offered 'litter patrols' and promised to make its own drivers wait inside the premises after 11pm.
But the issues of moped drivers travelling dangerously dominated the meeting. Chair of the committee, councillor Paul Alexander, said, "The residents are frightened at (Walham Grove) junction. What they're telling you is for real. They don't have a problem with your pizza, they have a problem with your delivery bikes and I really don't think that's coming across for now."
In his ruling, he said:, "The Committee has decided, after taking into account all of the individual circumstances of this case and the promotion of the four licensing objectives to reject the application."

Adrian Zorzut - Local Democracy Reporter