Inspectors described condition of East Ocean's equipment as 'disgusting'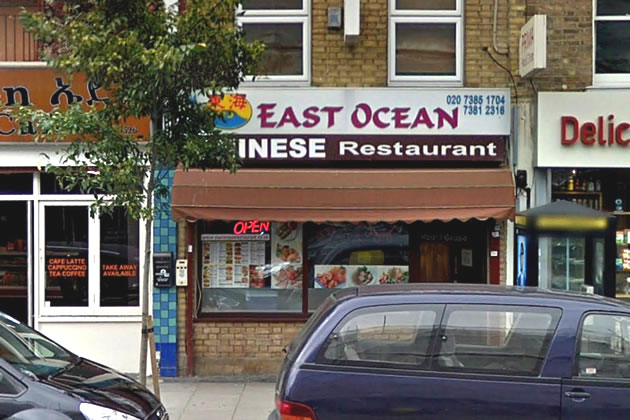 East Ocean Chinese takeaway. Picture: Google Streetview
A takeaway in Fulham was given a food hygiene rating of zero after mouse droppings were discovered and an inspector found "filthy and greasy" equipment.
East Ocean in North End Road said it has hired pest controllers and ordered a "deep clean" of its premises after the devastating inspection in March.
Its owner said it also fared better in a follow-up inspection last month.
A copy of the first inspection report shows that "boxes contaminated with raw chicken were being used to store ready-to-eat food such as seaweed".
In their summary to the business's owners, the inspector wrote, "You were using a bowl of consolidated liquid eggs to make your egg fried rice. The bowl was extremely dirty with dried congealed egg around the inside surfaces."
The Hammersmith and Fulham Council officer said:, "Cooked rice and noodles were stored in dirty colanders under dirty damp cloths…
"Raw chicken satay sticks stored above cooked rice in the walk-in chiller".
Some of their strangest discoveries were in East Ocean's basement.
"In the basement there was evidence of mouse droppings behind freezers and under shelving," they said.
"The basement was full of items unassociated with the food business including suitcases, bedding, children's toys and bikes etc making it difficult to assess the extent of the infestation"
They added, "Equipment was dirty, the rice cooker was filthy and greasy, the wok range was disgusting, the water was grey and greasy with food waste floating in it."
When approached for comment, the takeaway's owners said they have been invited to reapply for a new food hygiene rating after the recent score of zero.
They said, "Since the first visit, action has been taken to improve and meet the standard requirements for the hygiene measures…
"I have appointed Huntsman pest control to the premises and they have conducted an inspection as required. Treatment was applied on the same day of their visit and [is] ongoing….
"We also had a deep clean at the premises."
They said all damaged equipment has been "replaced".
"We will continue to monitor the hygiene standard," they added.


Owen Sheppard - Local Democracy Reporter
May 26, 2021