Local MP stands down as International Trade Minister ahead of vote on Monday
Chelsea and Fulham MP Greg Hands has announced this morning, 21 June that he is resigning from the government over plans for a third runway.
Mr Hands, who was International Trade Minister has stood down to honour his promise to constituents at the 2017 election to oppose a bigger Heathrow.
His move comes ahead of a crucial vote on the third runway due to take place on Monday.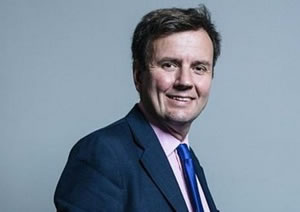 He tweeted: "I wrote to the PM earlier this week on how I will honour these 2017 General Election pledges to the people of Chelsea & Fulham and vote against the Heathrow 3rd runway on Monday."
He added a picture of a page from his pledge to constituents ahead of last Year's General Election, and added: " As the Government will be whipping the vote on Monday, this means I am resigning from the Government. It has been an honour to serve the Prime Minister (and her predecessor) for the last 7 years and I wish the PM & the Government every continuing success."
A Downing Street spokesman said: "Greg Hands has served the government with great ability and distinction over several years, and we thank him for all of his work.
"This government is committed to expanding airport capacity at Heathrow – this is an important decision which will play a crucial role in securing the future of Global Britain."
Mr Hands is just one of many MPs in West London concerned about their effects of a third runway on their local constituencies.
Hammersmith and Fulham Council has also recently stated that they intend to continue fighting the expansion. Cllr Stephen Cowan, H&F Council Leader said, "We absolutely refuse to sit back and let such a potentially catastrophic decision be made without a fight," said.
"We've made our stance very clear; a third runway at Heathrow would mean more noise for residents already suffering noise disturbance, more pressure on our roads and an unacceptable increase in air pollution.
"If we need to take legal action, we will, as the environmental cost of meekly accepting a decision in favour of expansion, would be far worse."
Paul McGuinness, Chair No 3rd runway Coalition, said, "Greg Hands' resignation is principled, and wholly enforced by the government's decision not to allow a free vote, despite its earlier promises and u-turn from its previous position to oppose Heathrow expansion."
On 5 June, the Government published a document, which, if approved by Parliament, would support plans for a third runway and effectively give the scheme outline planning permission. Parliament is due to vote on this next week. Once a policy supporting a third runway is adopted, Heathrow can then submit details and seek approval for its scheme under the national planning process for large infrastructure projects.
June 21, 2018