Event now bi-weekly with other trading day on Saturday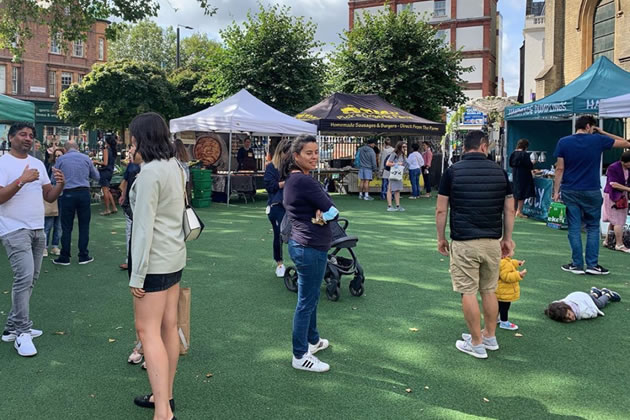 Fulham Farmers' Market
From 7 October, Fulham Farmers' Market will be open on Wednesdays. The market has been running every Saturday since mid-May in the grounds of St John's Church, situated in the heart of Fulham on North End Road.
The opening hours are the same as for Saturday, 9am to 2.30pm and between 20-30 farmers/producers and street-food vendors are expected to have stalls.
The idea behind opening on Wednesdays in addition to Saturdays is that everyone should be able to get the freshest, naturally-grown produce mid-week as well as on the weekends.
The market organisers say they are committed to ensuring traders not only bring high-end produce, but that their goods are unique, environmentally-conscious and locally-sourced where possible. They champion British organic,
free-range and naturally-grown produce. I
They host producers, like the farmersfrom Chegworth Valley, who supply naturally-grown fruit and veg from their farm in Kent.
The Fish Stall buys directly from day boats and cutting out the middleman means the fish and seafood at Wednesday's market will always be Tuesday's catch.
Pick's Organic sells grass-fed, slow-grown organic meat from livestock reared in their farm in Leicester.
Olivier's bakery hand-craft bread made from organic ingredients and bake their loaves and pastries daily at sunrise.
You will also find British, Irish, French and Greek cheese and charcuterie. For instance, The French Comte, who offer four different ages of comte, or Maltby and Greek, a UK supplier of premium Greek produce.
In addition to being able to purchase your weekly shop, Fulham Farmers' Market also offers street food that can be enjoyed on site or taken away. The market has a selection of vendors, which is continuously expanding. LePetit Moulin Traiteur pre-cook French dishes that can be devoured at market or throughout the week.
TheUgly Dumplings are confirmed to trade at the market on Wednesdays, joined by Yucatan, providing in Southern-Mexican food with an LA twist, and Beyroots with their hot authentic Lebanese wraps.
The market also offers a selection of craft alcohol, from French and Greek wines to beers and gins.
The market organiser said "Fulham Farmers' Market is all about providing healthy produce throughout the week. Styled on weekly neighbourhood food markets found in cities across Europe such as Milan, Paris, Barcelona and London, Fulham Farmers' Market is here to build a regular, friendly and collegial vibe in an area which is known for its vibrant, young and cosmopolitan community."

October 2, 2020