Celebrating exam success and looking forward to the future

The Peterborough Road school, formerly Hurlingham and Chelsea, became an academy in January this year when it became part of the United Learning Group.

The Foundation Day celebrated the school's achievements to date, including this summer's 8 point rise in the percentage of students achieving 5 or more A* to C grades at GCSE including English and maths, and marked the school's commitment to working with its local community.
As well as parents and governors, the school welcomed Winter Olympic champion, Shelley Rudman, who spoke during the ceremony.
In her role as Sports Ambassador for United Learning, Shelley gave an account of her experiences as a World Champion Skeleton athlete and encouraged students to take advantage of every opportunity presented to them.
Year 11 students from the academy gave spectacular performances of the songs 'Firework' and 'Titanium' whilst another student gave an impressive speech about the positive changes she has seen at the academy over the last six months.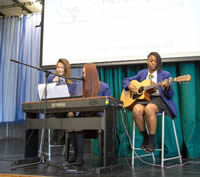 During the ceremony, Executive Principal Ben Parnell spoke about the progress being made at The Hurlingham Academy and set out his vision for the school for the next few years.
He said: " The Hurlingham Academy is rapidly transforming thanks to the support and commitment of its students and staff. We have implemented a series of initiatives which are already resulting in high standards of behaviour and learning and this is having a strong impact on student achievement.
"I am particularly excited about the development of our new Bilingual Stream and our plans to open a Sixth Form, which I am confident will further add to the diverse community we have here at the academy."
Staff, students and governors also signed pledges to support the academy in becoming an outstanding school.
Also in attendance were United Learning's Chief Executive Jon Coles and Dame Sally Coates, formerly head of Burlington Danes Academy in Shepherd's Bush and now Director of Southern Academies for United Learning, who will continue to work closely with the school.

She said: " It is with great pleasure that we formally welcome The Hurlingham Academy into United Learning today. Under the leadership of Ben Parnell and the support of United Learning, the school has made some significant headway in raising standards and the summer's GCSE results are testament to this.
"We have every expectation that the academy will continue to improve at pace and provide local children with the excellent education they deserve."
October 9, 2015