Aiming to beat Arsenal and win FA Women's Cup Final for second time
Chelsea Ladies are off to Wembley on Saturday, 5 May having reached the Women's FA Cup final for the third time in four years.
This time, the Ladies face a London derby against Arsenal and are aiming to repeat their success in 2015, in the first FA Women's Cup Final at Wembley, when they scored a 1-0 victory against Notts County to win their first ever trophy.
On that occasion, in front of over 30,000 supporters at the national stadium, Ji So-Yun's goal settled the showpiece final, just as it had done in the semi-final win against Manchester City.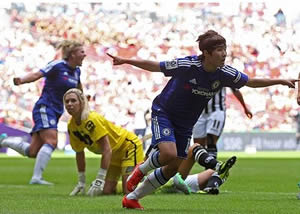 If they win, it will also be the tenth time that captain Katie Chapman, pictured below has had her hands on the FA Women's Cup five different London clubs.
The team are hoping to bounce back on Saturday from a disappointment last weekend when they lost the second leg of their Champions League semi-final.
A crowd of over 4,000 is expected to turn out for the the match which kicks off at Wembley at 5.30pm, with doors open from 4pm. Tickets are still available priced £15, concessions £5 and kids go free. Find out more and book tickets here.
May 4, 2018