The popular actor was spotted filming his latest role in W7

(all photos courtesy of Liz Jenner)
There's been a massive flurry of excitement in Hanwell this week as award winning actor, producer, musician, DJ - and one of the most influential people in the world (according to the Time 100 list) Idris Elba, was spotted at work at The Viaduct Pub (not behind the bar though!)
Roving photo-journalist, Liz Jenner, managed to catch him on her own camera and had a quick chat to this ' The Wire' and 'Luther' legend as he was filming for his new Netflix Comedy, ' Turn Up Charlie.'
She told us: '' He was utterly charming, softly spoken and absolutely stunning looking. I asked him if I could please have just one photo, he smiled and said that he couldn't stop me anyway. We struck a deal one photo and then I would leave him to get on with his work . As he turned to go back filming he gave me the thumbs up. Made my day! ''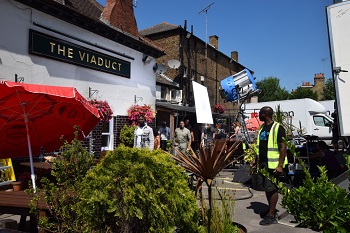 Co-created by Elba and Gary Reich, Elba plays Charlie, a struggling DJ and bachelor, who is given a final chance at success when he becomes a male nanny ( manny) to his famous best friend's problem-child daughter.
Netflix has commissioned eight episodes and production is well under way, but there has been no release date as yet.
It's not the first time the star has made use of the Ealing area, 'Yardie' which was his directorial debut, was filmed around the Copley Close estate.
Judging by the reaction on the local social media channels from this latest appearance in W7 he can be sure of a very warm welcome back!
June 27th 2018