Commuter frustration as lines of traffic stretch to King Street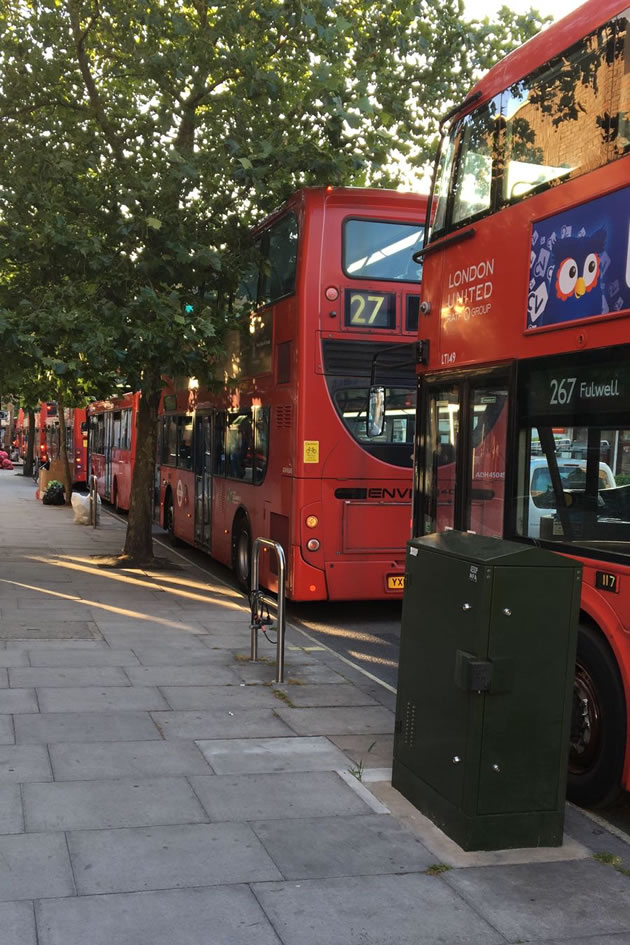 Line of buses stuck in the bus lane on Chiswick High Road
Thames Water works which have resulted in temporary traffic lights installed at the junction of Chiswick Lane and Chiswick High Road, led to lengthy traffic delays and even gridlock at times, in the past few days.
Traffic was disrupted for a week since 23 June, with tailbacks to King Street, and a knock-on effect to Stamford Brook Road, with the problem particularly acute at rush hour.
One local resident sent a photograph of a line of buses stuck in the bus lane - she counted seventeen in total. Eventually the passengers got off the buses and walked.
Traffic was flowing one way on Chiswick Lane due to the temporary lights.One local told how she waited 20 minutes to travel a matter of yards along Chiswick Lane towards the High Road.
Motorists bbecame frustrated by the delays, particularly in the heatwave.
One tweeted "Absolutely no reason for Chiswick High Road not to run in both directions as normal. Instead, @TfLTrafficNews, we have traffic flowing in a single direction. Insane queues and totally unnecessary. Please send someone to sort this out! Shep Bush Road also closed, so it's gridlock".
Work has apparently now been completed and traffic problem is resolved.
June 30, 2018